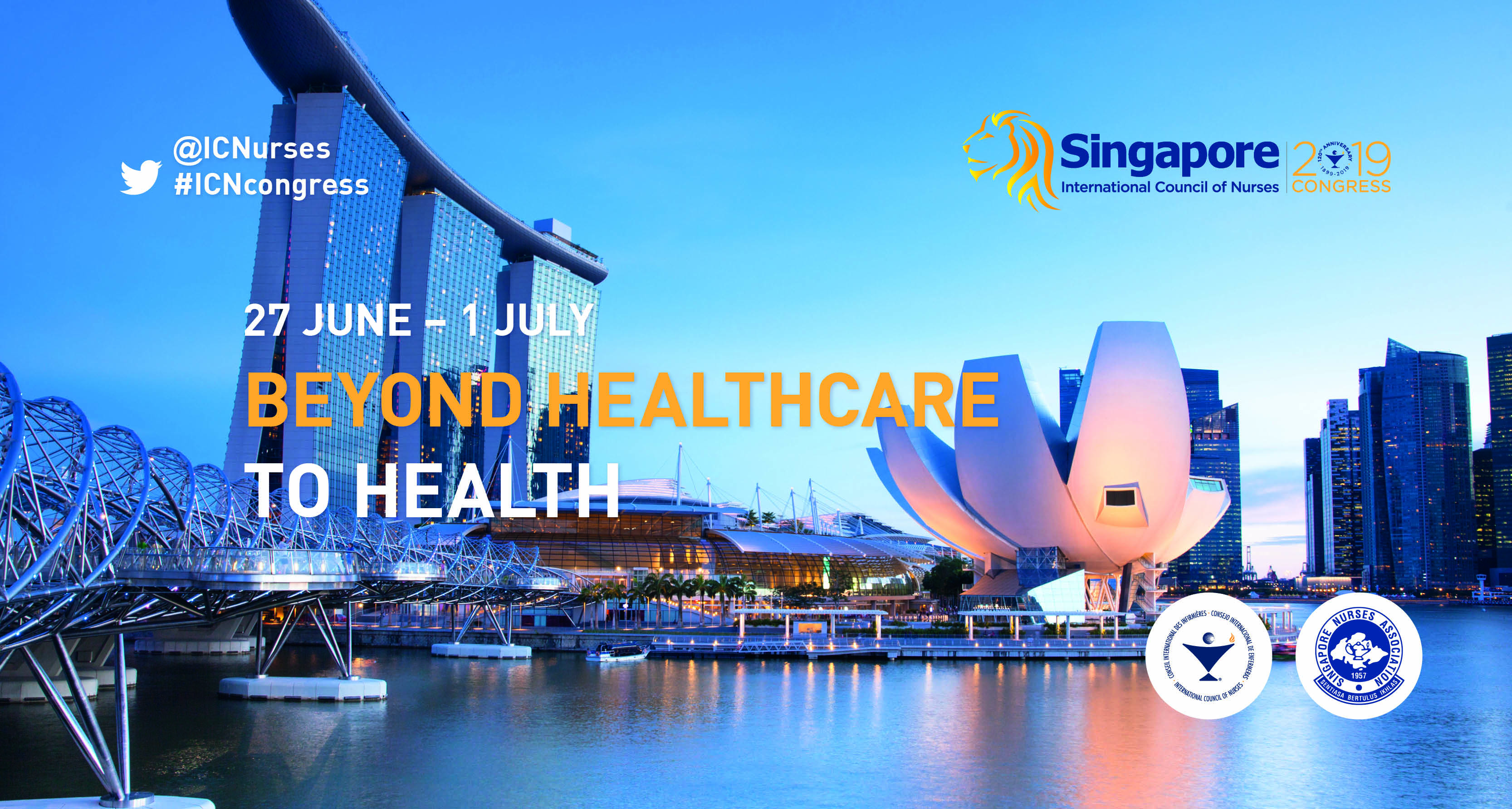 Date

27 June - 1 July 2019

Place

10 Bayfront Ave
Singapore


BEYOND HEALTHCARE TO HEALTH
The International Council of Nurses is delighted to invite you to the ICN Congress 2019 to be held in Singapore from 27 June to 1 July 2019.
Hosted by the Singapore Nurses Association, this international gathering of thousands of nurses will explore the many ways in which nurses work to achieve universal access to health, not only providing health care but also addressing the social determinants of health, such as education, gender equality, poverty, etc.
The Congress will provide opportunities for nurses to build relationships and to disseminate nursing and health-related knowledge. The Council of National Nursing Association Representatives, ICN's global governing body, will convene from 25-27 June 2019.
Congress participants who are members of ICN member associations will be able to observe global nursing leaders, identify the profession's priorities and future directions.
For any queries, please contact: singapore2019@icn.ch
Fees displayed do not include VAT/GST
Type of participants

 

Early Bird Fee

13 February 2019

Standard Fee

25 June 2019

Onsite Fee

27 June 2019

ICN members
550€
680€
850€
Non ICN members
660€
825€
1035€
Students
240€
300€
375€
Accompanying person*
80€
80€
80€
*access Opening Ceremony and Exhibition only
Accommodation: In order to book your hotel through ICN's appointed agency, please click here in order to access your registration profile.

K.I.T. Group has been appointed as the official and exclusive housing agent for the ICN Congress 2019. Your hotel reservations will be part of the congress block and K.I.T. Group will be available to provide support before the Congress as well as onsite. All rates listed are inclusive of breakfast and local taxes. In case you encounter lower room rates on other booking channels, please be aware that the offers might not be for the same room type and might not include the same features as the rooms that are being offered by K.I.T. Group. By booking rooms through the official channel with K.I.T. Group, you can be ensured of the quality of the hotels and the safety of money transactions. In addition to that you are supporting the Congress. ICN strongly recommends delegates to book via K.I.T. Group, as we cannot offer any support with any bookings made via any other booking platform.
Browse the full Congress programme and create your own schedule. Sign in or create an account, then select by day, type or theme. View in another window
Speakers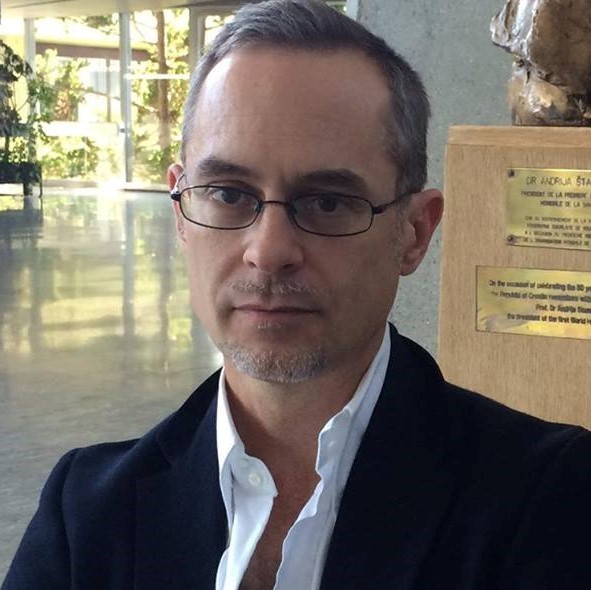 Dr Jeremy Lauer has led inter-disciplinary teams in a range of countries on adapting economic evaluations to national settings, and is currently finalizing a cost-effectiveness study on 500 interventions covering a range of diseases, injuries and risk factors. In 2016, Dr Lauer led WHO's contribution to the High-Level Commission on Health Employment and Economic Growth, analysing fiscal space for workforce expansion and interactions between the health system and the economy. He holds a BSc in Mathematics and Philosophy from St John's College in Maryland, MA and MSc degrees in Economics and Agricultural and Applied Economics from the University of Wisconsin, and a PhD from Erasmus University Rotterdam.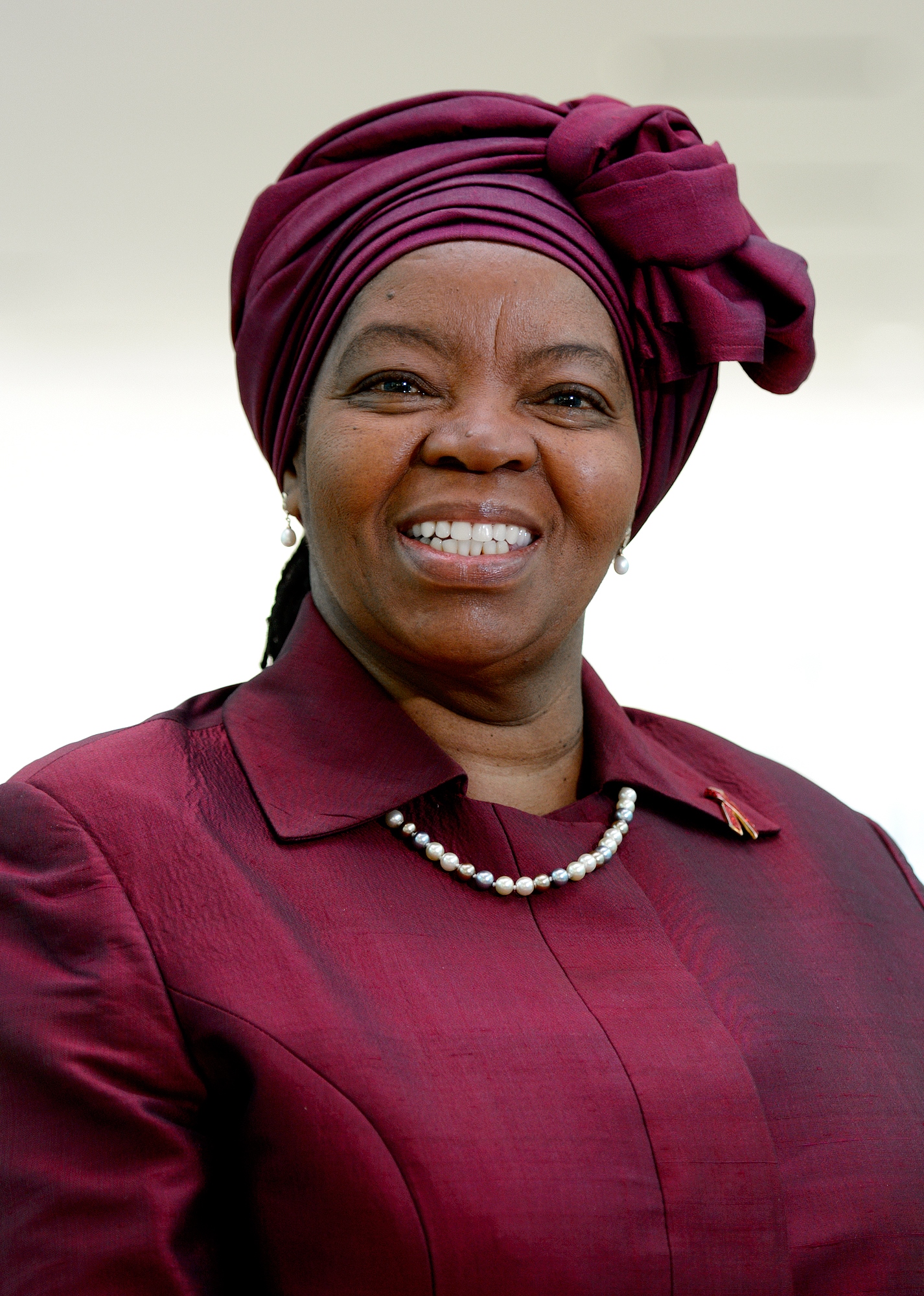 Professor Sheila Tlou, is Co-Chair of the Global HIV Prevention Coalition and Co-Chair of Nursing Now Global Campaign. Previously, she was UNAIDS Regional Director for Eastern and Southern Africa; Minister of Health of Botswana; Professor of Nursing at the University of Botswana; and Director of the WHO Collaborating Centre for Nursing and Midwifery Development in Primary Health Care for Anglophone Africa. With a PhD in Nursing Sciences and post-graduate certificates in Women's Health and Gender studies, from the University of Illinois, she has played a key role in the development of national nursing and medical education curricula, working to broaden the scope of Health Sciences education in Botswana.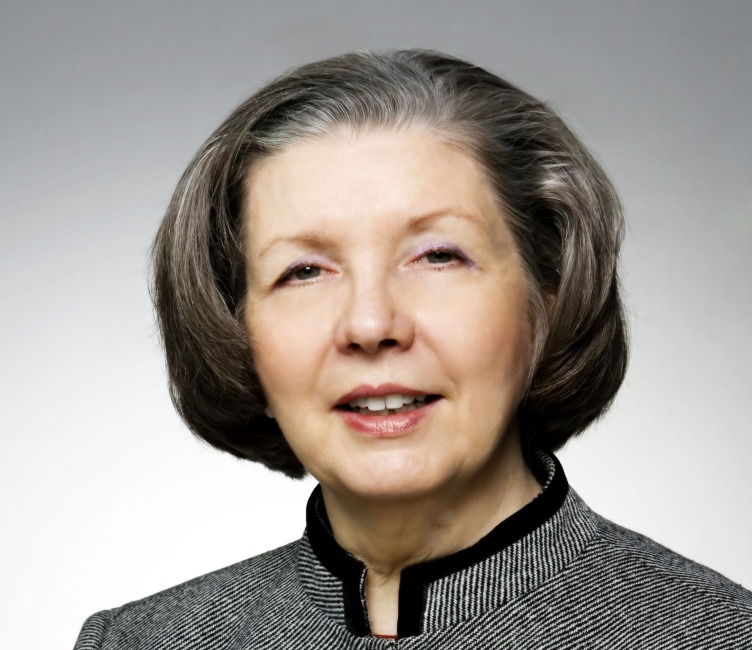 Dr Kristine Gebbie is Adjunct Professor at Flinders University, Adelaide and the University of Adelaide, Australia. She served from 2009-10 as Dean at Hunter-Bellevue School of Nursing, Hunter College City University of New York. For 14 years prior, she was Elizabeth Standish Gill Professor of Nursing and Director, Center for Health Policy at Columbia University School of Nursing. Her career has included leading Oregon and Washington state health departments and establishing the White House Office of AIDS Policy. Her education includes a BSN from St. Olaf College, Minnesota, and a DrPH from the University of Michigan School of Public Health. She has published in nursing, public health and policy journals.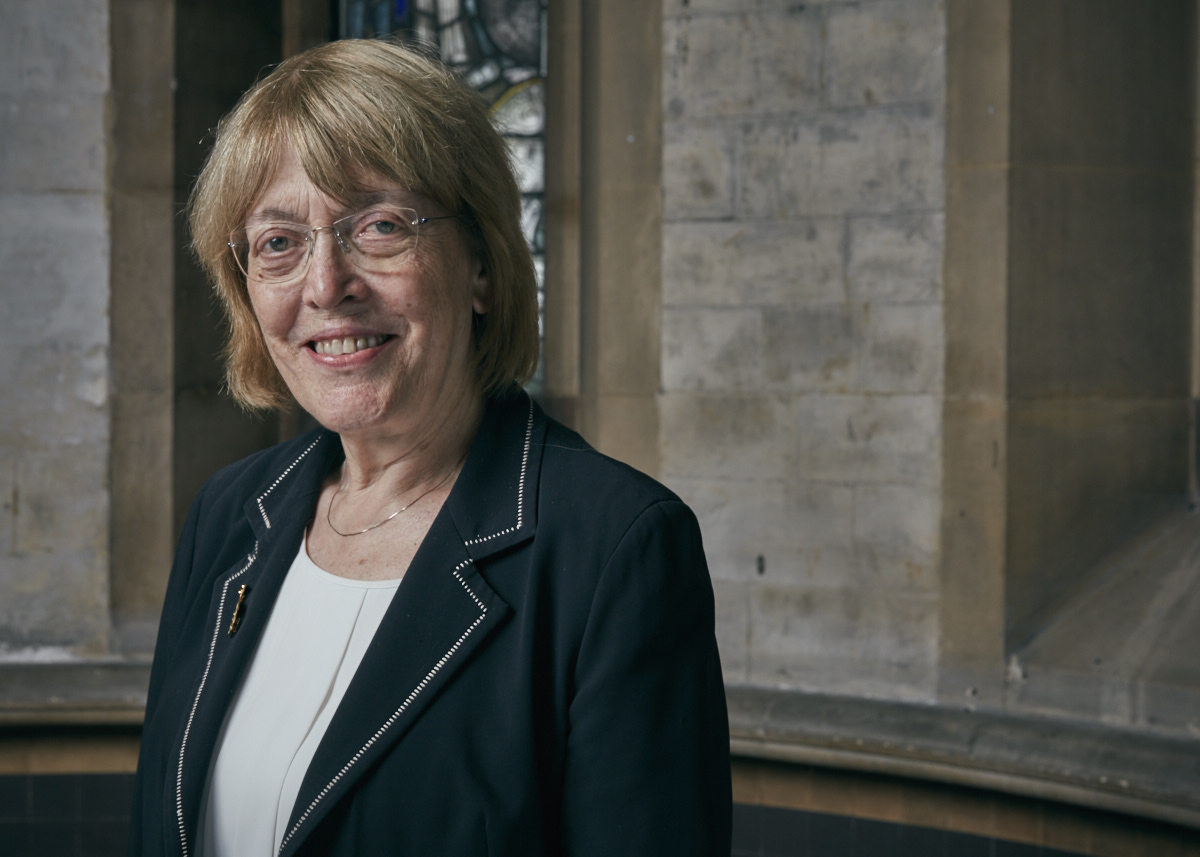 Mrs Christine Hancock ICN President from 2001-2005, she now leads C3 Collaborating for Health, a London-based global charity which works with diverse stakeholders to focus on the risk factors of major chronic diseases. She is a graduate of the London School of Economics and the London Business School and an experienced clinician and manager. She was CEO of the NHS for Waltham Forest, a deprived area of north London and spent 12 years as General Secretary/CEO of the Royal College of Nursing, before being elected ICN President. At ICN, she visited 50 countries and was engaged with WHO and the UN system.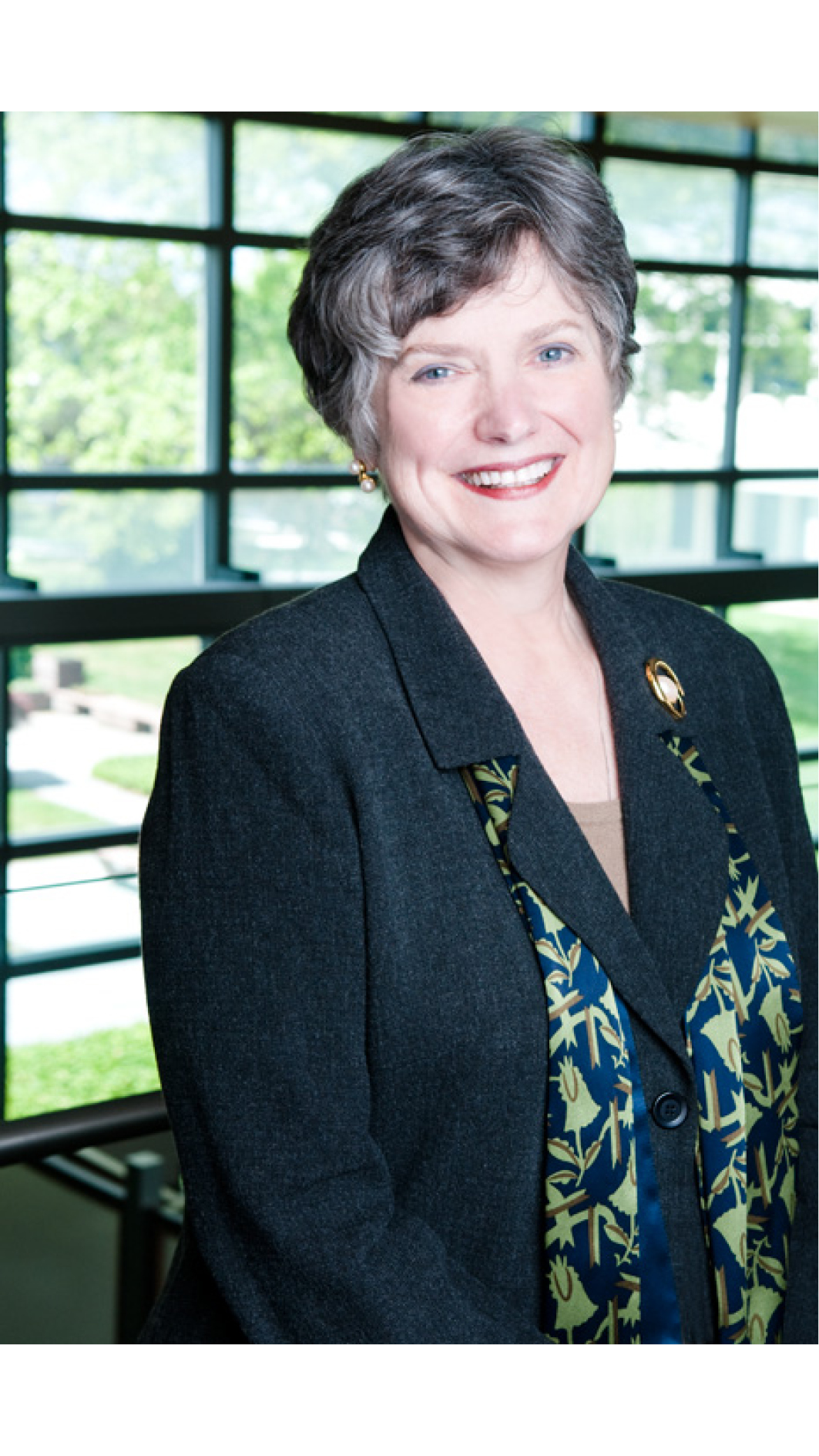 Dr Marla E. Salmon, is Professor of Nursing and Global Health, and Adjunct Professor of Public Policy and Governance, University of Washington. USA. Her career focuses on global human resources for health policy and capacity building; and, empowering women, strengthening health systems/services through investment in nursing and midwifery enterprise. Her leadership roles have included: US Government Chief Nursing Officer as Director Division of Nursing, US Department of Health and Human Services Nursing; Chair of the WHO's Global Advisory Group for Nursing and Midwifery; founding director of the Lillian Carter Center for International Nursing; and dean of nursing Emory University, and the University of Washington.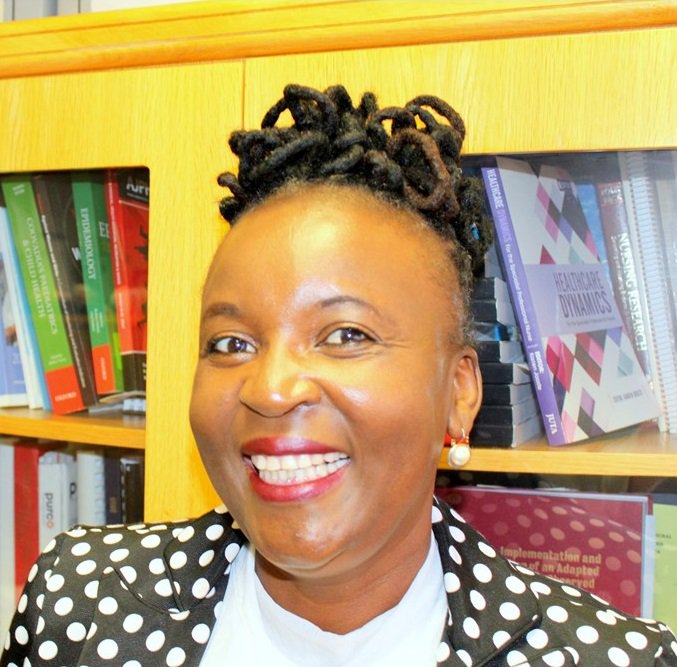 Professor Fhumulani Mavis Mulaudzi
Professor Fhumulani Mavis Mulaudziis the Head of Department of Nursing Science and Chairperson of the School of Health Care Sciences at the University of Pretoria, and Editor in Chief of Curationis Journal. She is currently the president of Chi-Xi chapter of the Sigma Theta Tau, Chairperson of the Forum of University Nursing Deans in South Africa, and treasurer of the South African Health Care Sciences Deans committee. She was a runner up for the Distinguished Women in Science award in 2011 for her work in indigenous knowledge system research. Her research interest lies in human rights and ethics, HIV/AIDS, indigenous knowledge system and reproductive health.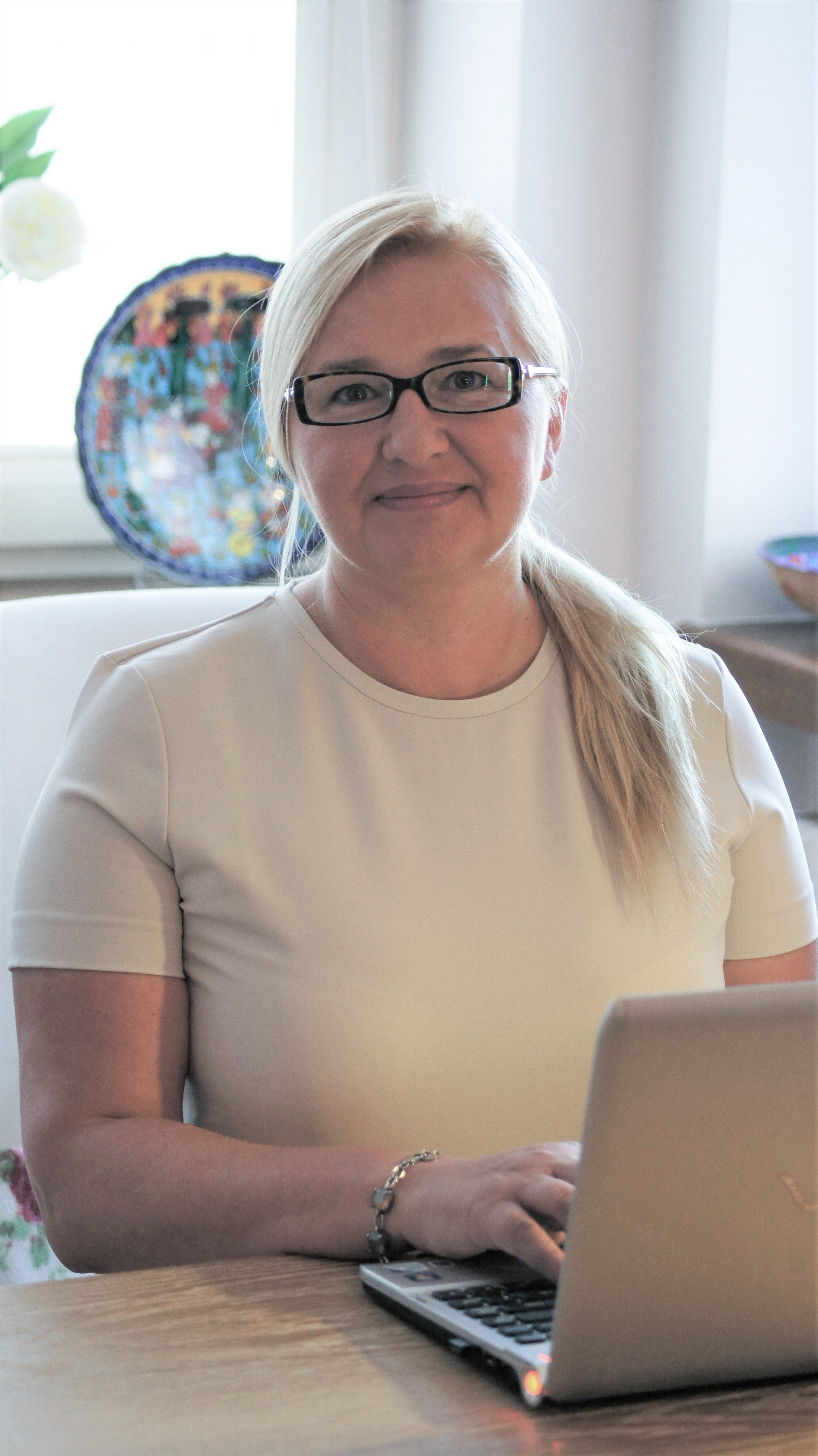 Mrs Jolanta Bilińska is past chair of the International Alliance of Patients Organizations (IAPO). Currently, she is plenipotentiary Director of Development and Social Communication at City Medical Centre, Łódź, Poland. She has an M.A. in Clinical Psychology and is interested in matters relating to patients' rights and the way they are observed in health care system. Since 2004, she has been coordinator of the European Union in National Health Fund in Łódź. In 2006, she established Patient Safety Foundation, whose main aim is to promote safety measures in health service as well as to involve patients in the process of treatment.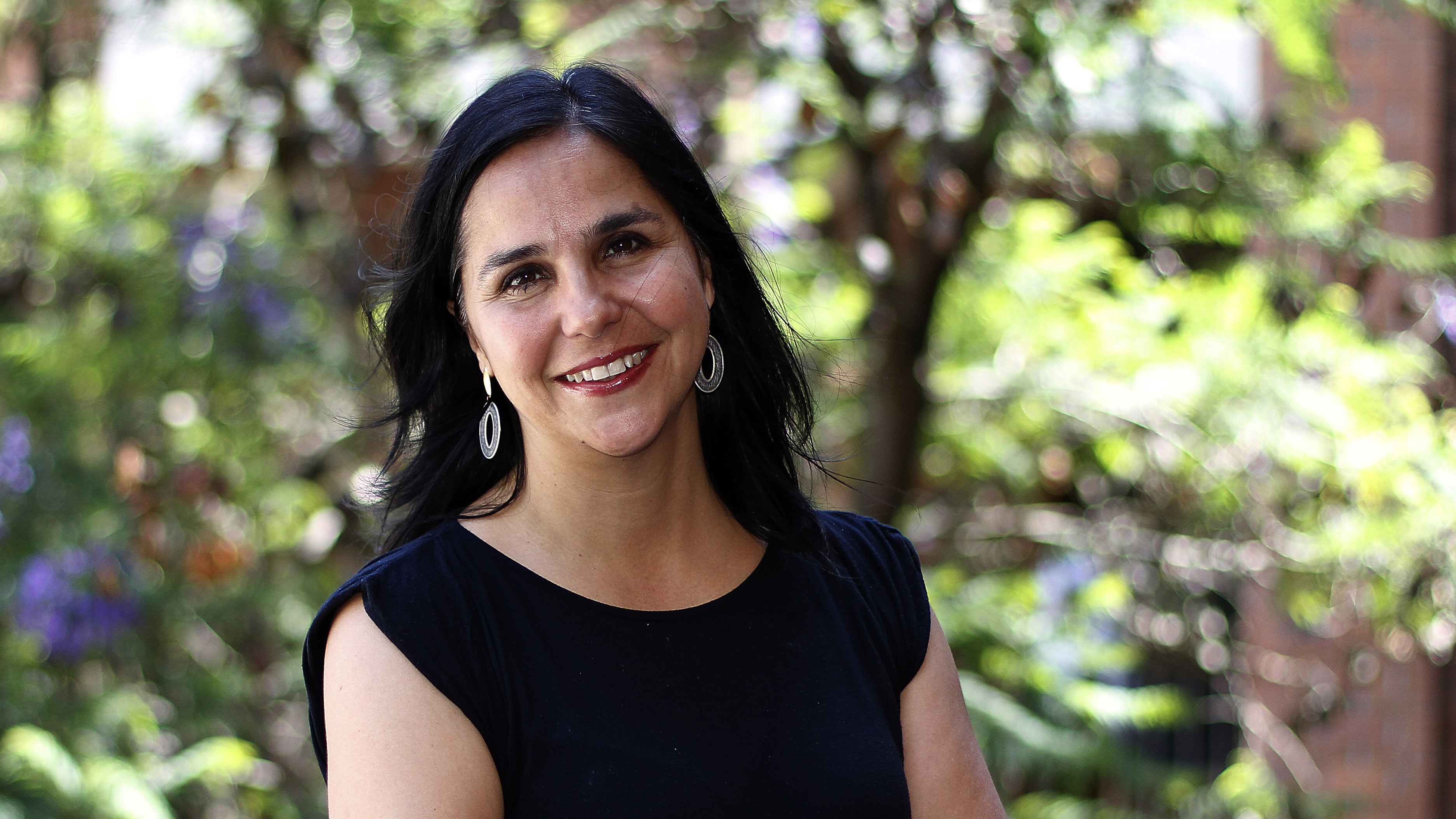 Mrs Consuelo Cerón Mackay
Mrs Consuelo Cerón Mackay, started her professional career as a bedside nurse in an Intensive Care Unit in a Paediatric Hospital. For five years, MacKay served as Director of the School of Nursing and, since 2015, has been the Dean of the Faculty of Nursing and Midwifery. She is an active participant in the Chilean Association of Nursing Education and in the Technical Group Developing Competence of Advanced Practice Nursing in Latin-American Countries. She is also a Senior Research Fellow of the Center for Health Outcomes and Policy Research from University of Pennsylvania and leading the research team for the Project RN4CAST-Chile.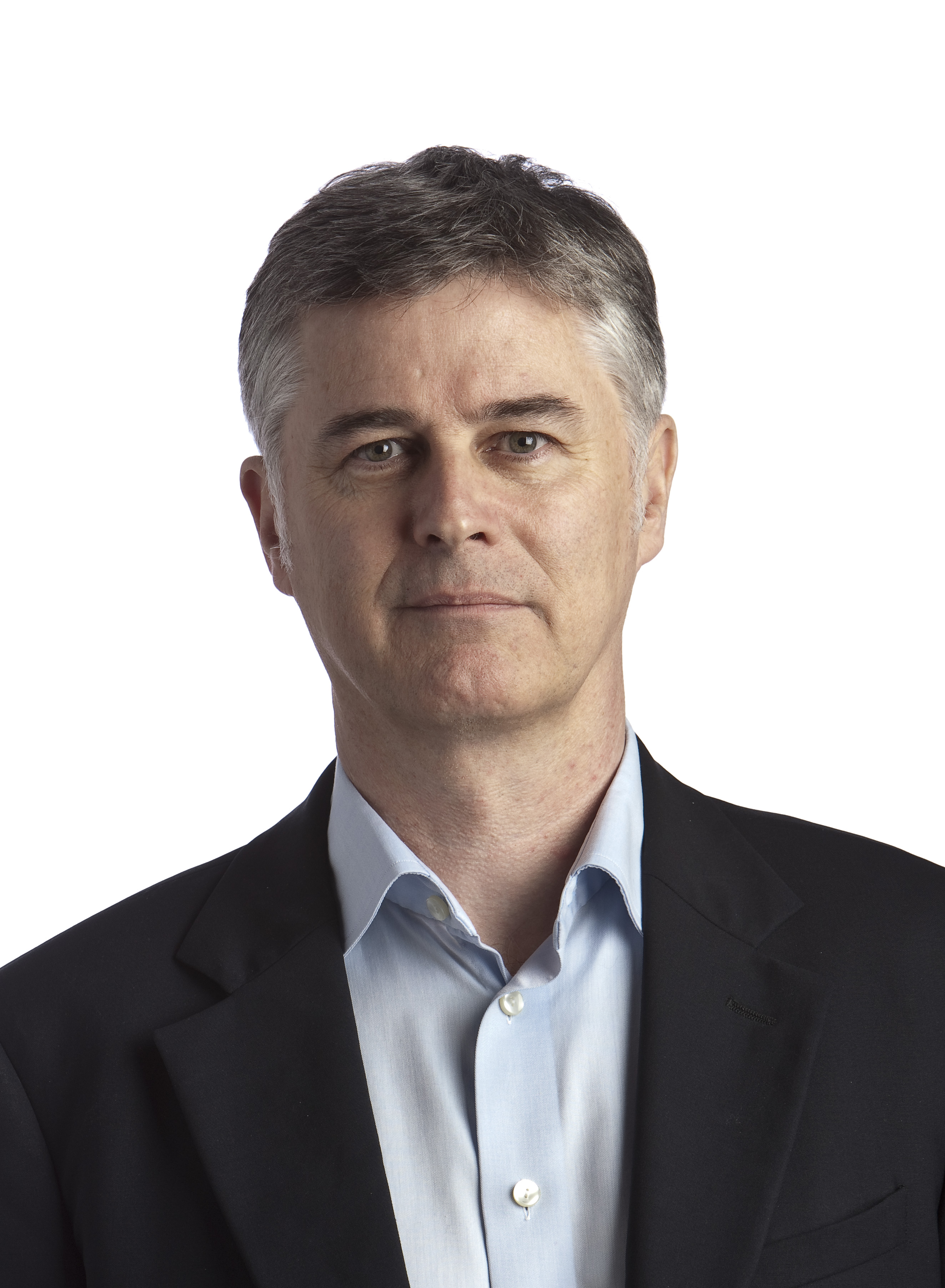 Professor James Buchan, is Adjunct Professor at the University of Technology, Sydney (UTS). He has specialized in nurse workforce policy and analysis throughout his career and has worked extensively as a consultant in Europe, Asia and the Pacific, for governments and international agencies. His background includes working as a senior manager in the National Health Service in Scotland; senior policy analyst at the Royal College of Nursing, UK; and as a specialist adviser to Health Workforce Australia, a federal government agency. He was also a Harkness Fellow at the University of Pennsylvania, USA. He is Editor in Chief of "Human Resources for Health", the peer review journal.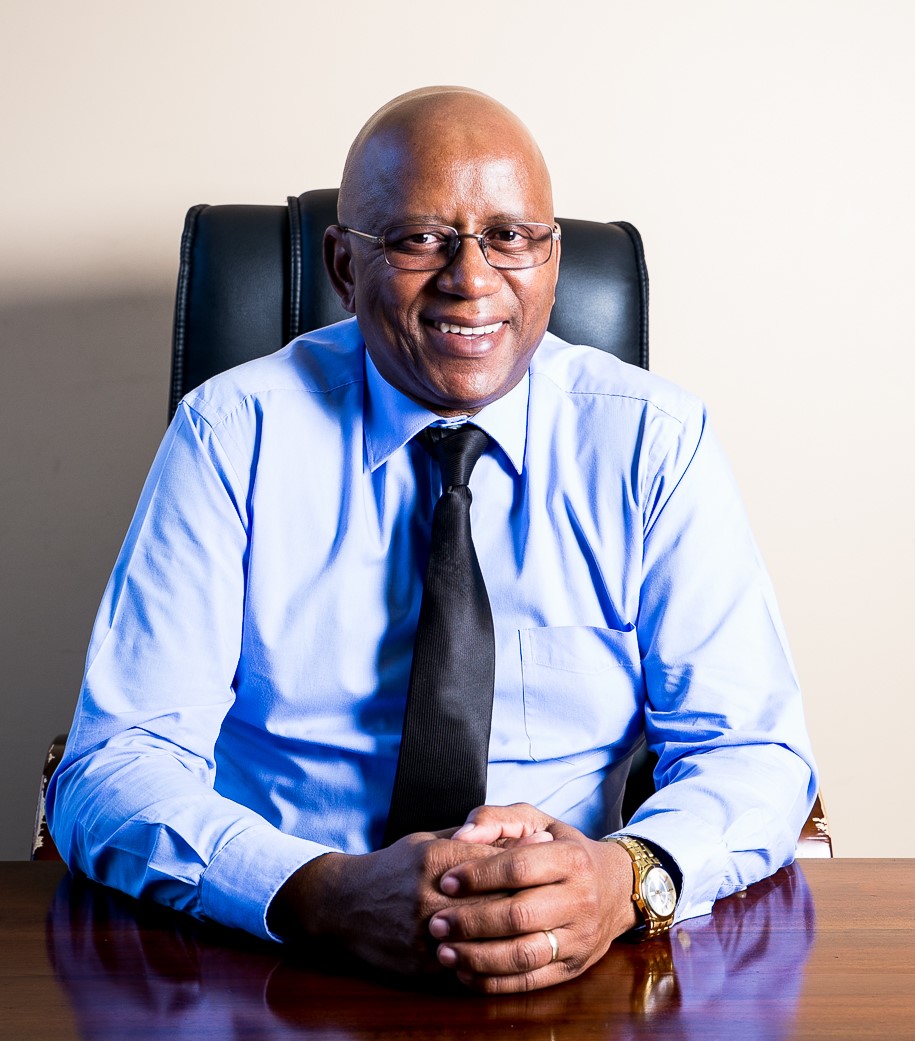 Dr Percy Mahlathi is a medical graduate of the University of Natal, and also holds an M Phil and PhD. As previous Deputy Director General at National Ministry of Health, Dr Mahlathi spearheaded major innovations in the health workforce in South Africa notably: Nursing Strategy 2008; Policy on Employment of Foreign Health Professionals in Public Health Service; Policy on Remuneration of Health Professionals. He also played a role in the formulation of the WHO Global Code of Practice on International Recruitment of Health Personnel and the Guidelines to Recruitment and Retention of Health Personnel in Rural and Remote Areas. He was previously Chief Executive of South African Medical Association.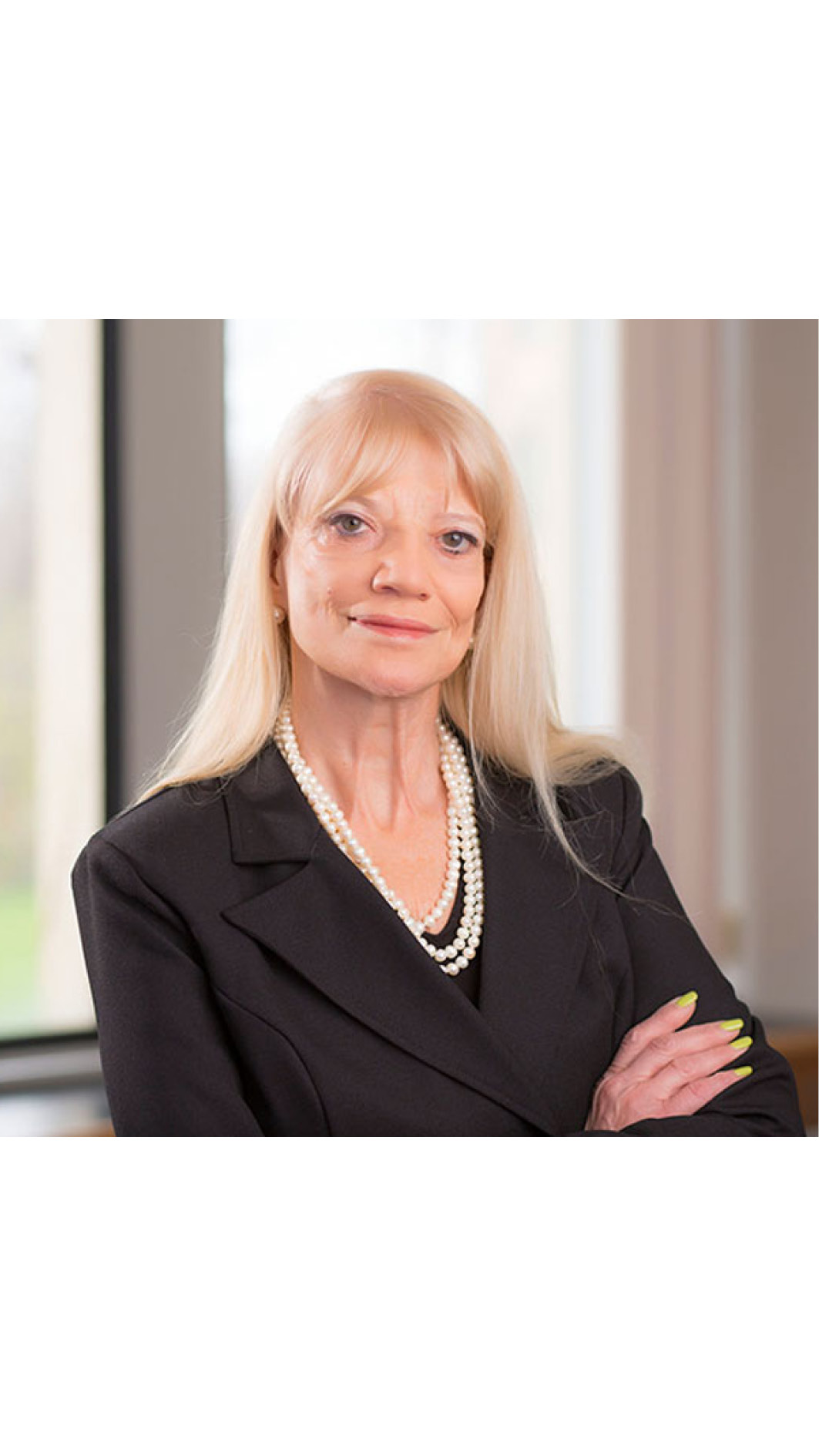 Dr Joyce J. Fitzpatrick ( FNIF/GCEF Fundraising Session speaker)
Dr Joyce J. Fitzpatrick is currently the Elizabeth Brooks Ford Professor of Nursing at the Francis Payne Bolton School of Nursing at Case Western University. A preeminent nurse scholar, she has contributed to the science of nursing education at all levels worldwide including the implementation of traditional and emerging programmes. Her impact has been through educational innovation, development of conceptual and theoretical models, and establishing programmes to fund nursing education for long-term viability. Dr Fitzpatrick founded and led the Bolton School's WHO Collaborating Centre for Nursing, and designed a series of educational interventions focused on HIV/AIDS prevention in Uganda, together with the CWRU School of Medicine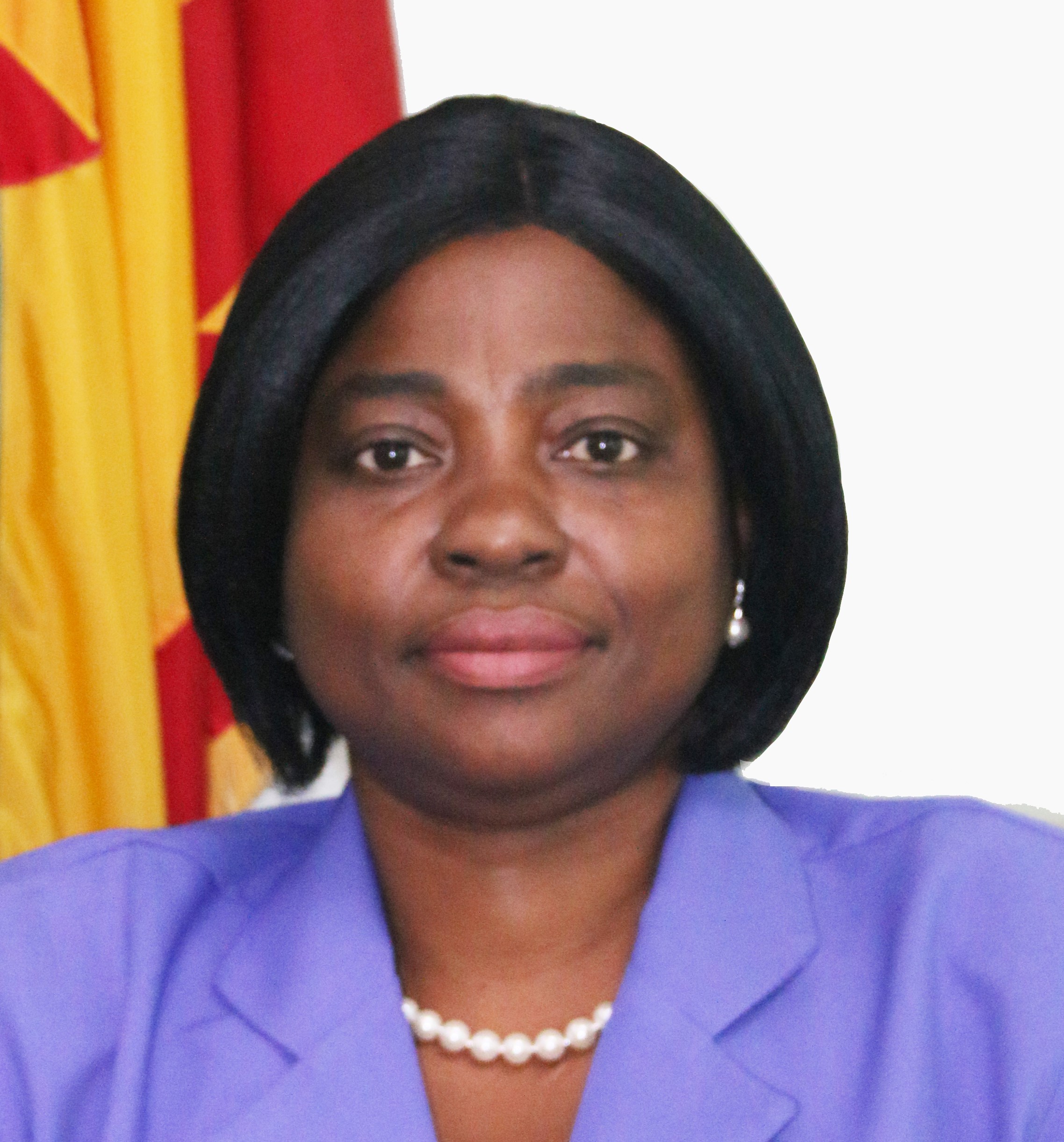 Nester Edwards, the Chief Nursing Officer in Grenada, has a background in nursing, midwifery and nurse education. She has a Bachelor of Science Degree in Nursing Education from the University of the West Indie, and a master's degree in Public Health from St. George's University, Grenada. She is currently Chair of the Nurses and Midwives Council of Grenada and she also chairs the Regional Nursing Body. Ms Edwards has a keen interest in health policy and human resources in health, and has worked very closely with regional and international organisations in the review and development of several policies for the Grenada Ministry of Health.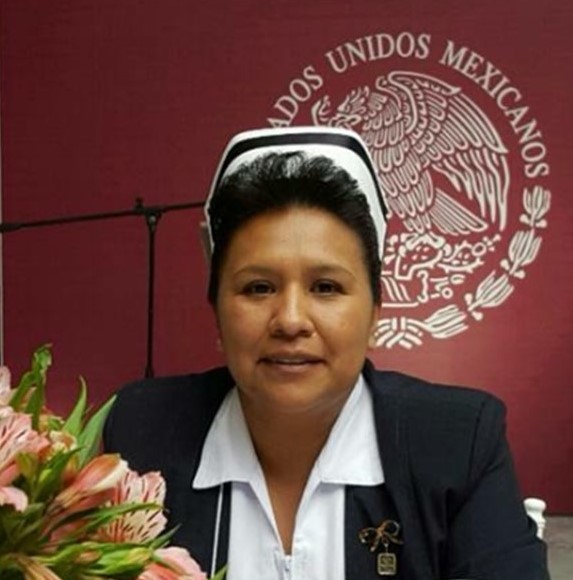 Ms Claudia Leija Hernández
Claudia Leija Hernández is a Registered Nurse (National Autonomous University of Mexico) and pursued a Master's degree in Health Services Management (La Salle University). She is member of the Mexican Society of Cardiology, Mexican Association of Infusion Therapy, she is also member of Government Board of Council of the National Academy of Nurses, Mexican Society of Thrombosis and Haemostasis and the Mexican College of Nursing Graduates. Ms. Leija has worked in the National Institute of Cardiology of Mexico (having different positions, including the Nursing Chief Officer in the institute. Currently and from 2016, Ms. Claudia Leija is the Nursing Chief Officer of Mexico's Ministry of Health.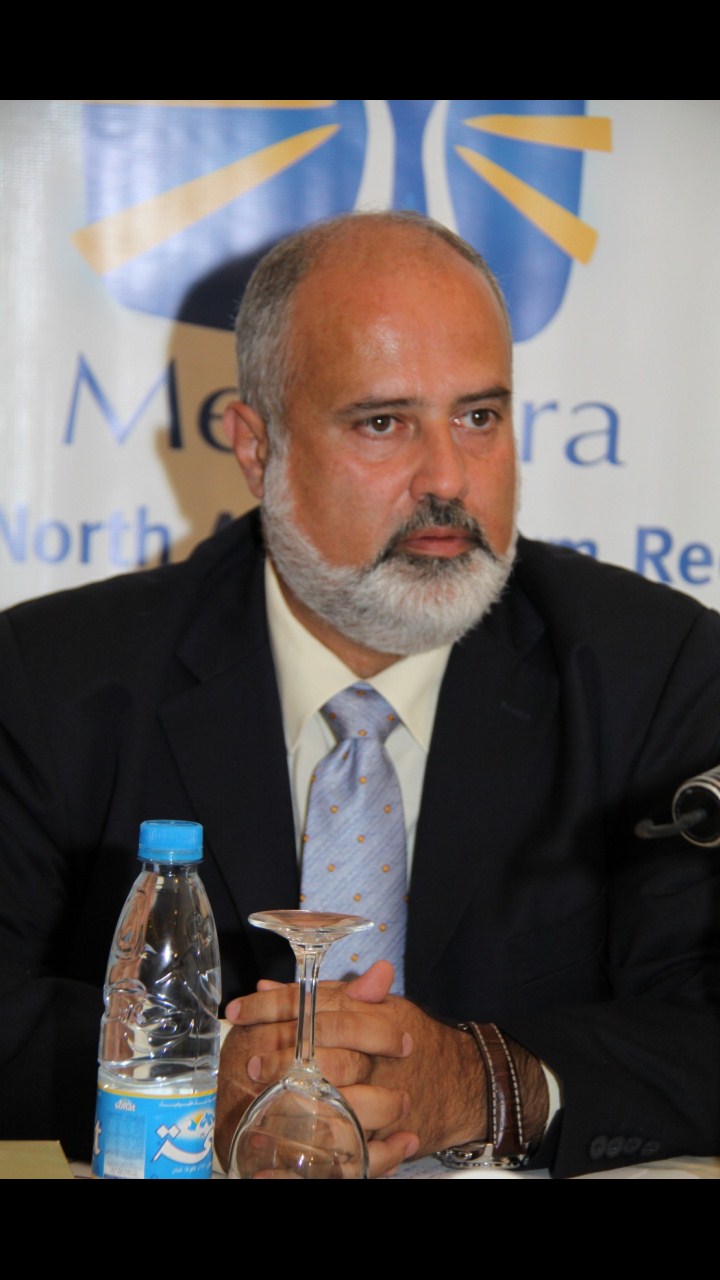 Elias Al Aaraj is the founder and former Director of Soins Infirmiers et Développement Communautair, which promotes and strengthens community health in the Lebanon. He has a BS in Nursing and a master's degree in Community Health from the St Joseph University, Lebanon. Mr Al Aaraj has held a number of prominent posts in Lebanon and is President of the Regional/Arab Network Against AIDS. He has widely researched HIV, drug use prevention, harm reduction and the role of civil society organisations. He is the recipient of the Medaille Marcelle Hochar Award from the Lebanese Red Cross Nursing Association and the National Rolleston Award from Harm Reduction International.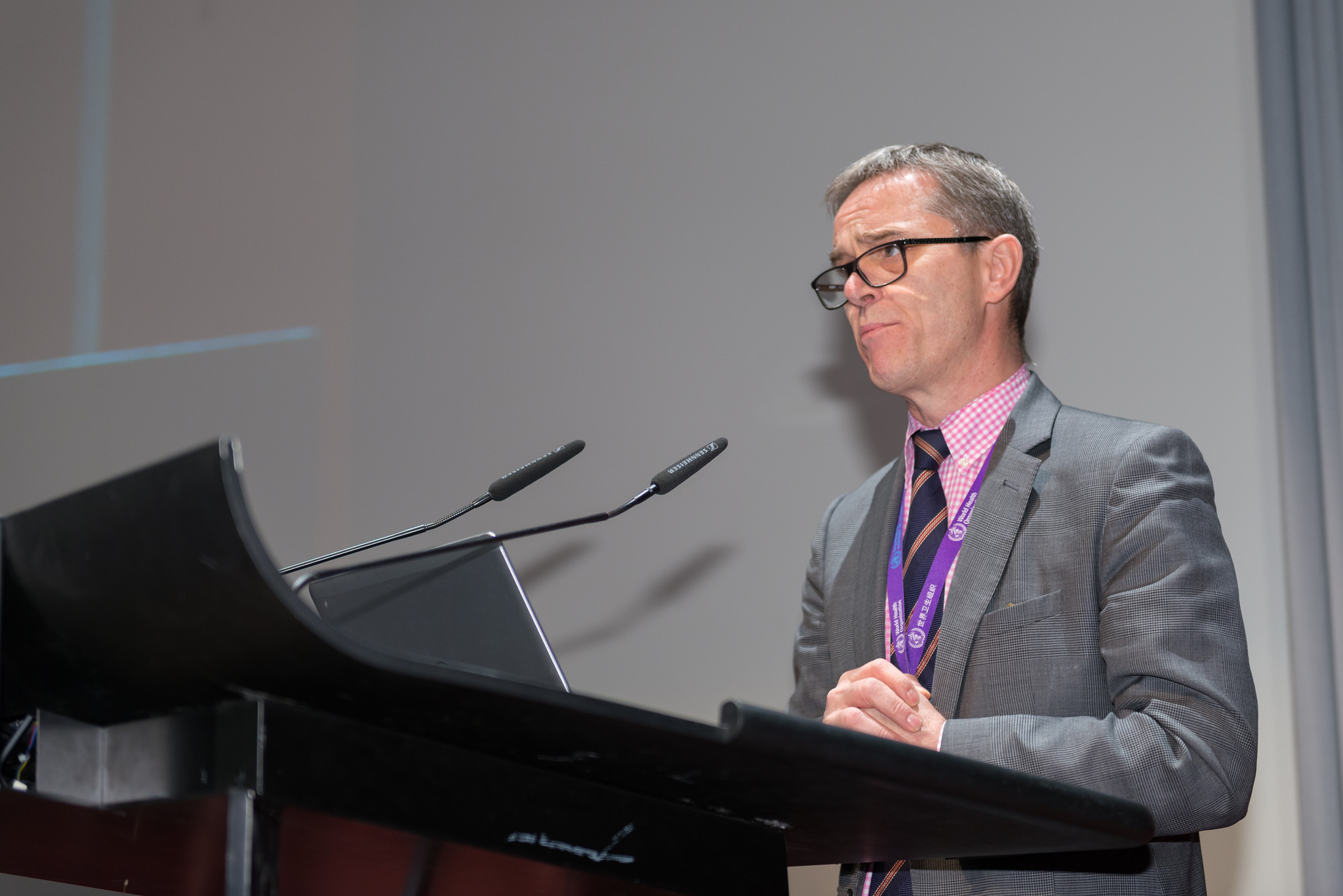 Jim Campbell is the Director of the Health Workforce Department at the World Health Organization. He oversees the development and implementation of global public goods, evidence and tools to inform national and international investments in the education, development and retention of the health and social sector workforce in pursuit of global health security, universal health coverage and the Sustainable Development Goals. His department's recent work includes WHO's Global strategy on Human Resources for Health, the report of the WHO High-Level Commission on Health Employment, and Economic Growth, and the WHO five-year Action Plan on the International Labour Organisation / OECD programme Working4Health.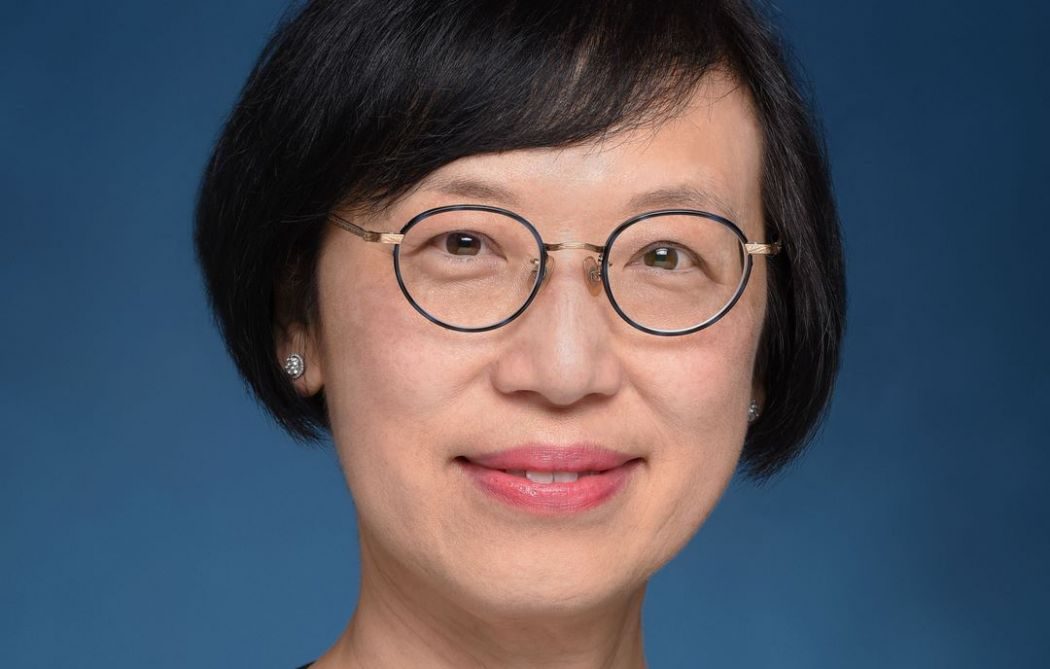 Professor Chan has been Hong Kong's Secretary for Food and Health since 2017. Previously she was Professor in Nursing and Head of the School of Nursing and Director of Research at the University of Hong Kong (HKU). She has a Masters of Education degree from the University of Manchester, a Masters of Public Health from the Harvard School of Public Health, and a PhD from HKU. Professor Chan's research into public health and tobacco dependency and harm is internationally recognised. She is a Fellow of the UK Royal College of Physicians Faculty of Public Health, and a Fellow of the American Academy of Nursing.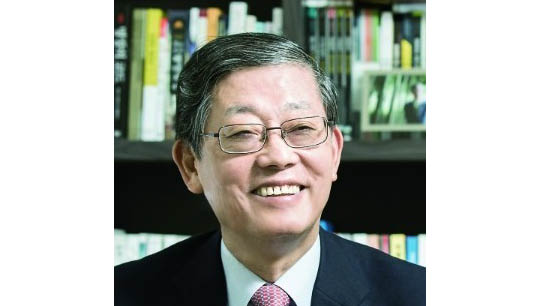 Kim Hwang Sik is a former Prime Minister of the Republic of Korea. He studied law at the University of Marburg in Germany and at Seoul National University. After passing his National Judicial Examination in 1972 he worked in Korea's district and high courts as a judge, eventually holding the post of Justice of the Supreme Court of Korea between 2005 and 2008. He was Korea's Prime Minister between October 2010 and February 2013. He chairs of the Ho-Am Foundation and the Marianne - Margaritha Nobel Peace Prize Pan-national Nomination Committee.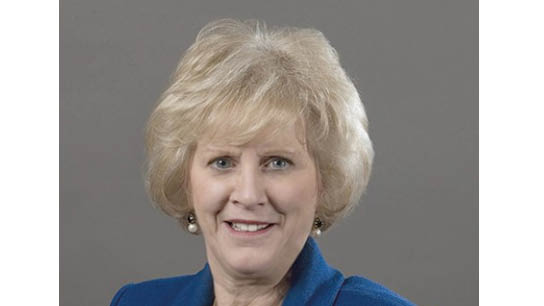 Dr Leslie Mancuso is the President and CEO of Jhpiego, an international non-profit health organization that is affiliated with Johns Hopkins University. Dr Mancuso's vision is rooted in her belief that Jhpiego must develop sustainability, which will mean that countries have the capacity to create a well-prepared network of healthcare professionals and a strong health system that they can build upon to care for themselves. She is acting Chair of the Health and Life Science Working Group, the Life Science Innovation Forum (LSIF) of the Asia Pacific Economic Cooperation Organization (APEC), the World Trade Center Institute and the Advisory Council of the Johns Hopkins School of Nursing.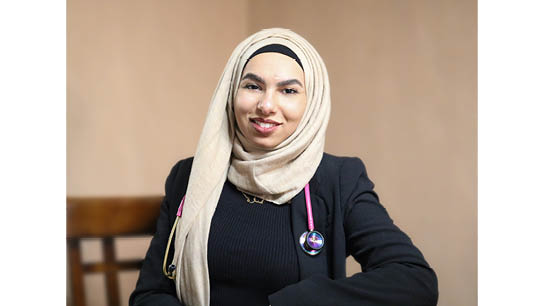 Sarah Walji is a Canadian Registered Nurse working in an acute mental health setting in Ontario. She is currently completing her master's degree in global health, focusing on child brides and suicide. She is a Young Nurse Representative on the global Nursing Now campaign. She has spoken to global audiences, recently leading a workshop for student nurse leaders in Qatar and engaging with her local community as a mental health educator. Sarah has also participated in healthcare service delivery in South America and the Middle East. Her interests include global health, governance, advocacy, youth, gender, mental health and education.
Cindy Hensley McCain has dedicated her life to improving the lives of those less fortunate both in the United States and around the world. As the Chairman of the Board of the McCain Institute for International Leaders hip at Arizona State University, where she oversees the organisation's focus on advancing character-driven global leadership based on security, economic opportunity, freedom and human dignity. Mrs McCain also chairs the Institute's Human Trafficking Advisory Council and serves as co-chair of the Arizona Governor's Council on human trafficking. She is the wife of the late U.S. Senator John McCain.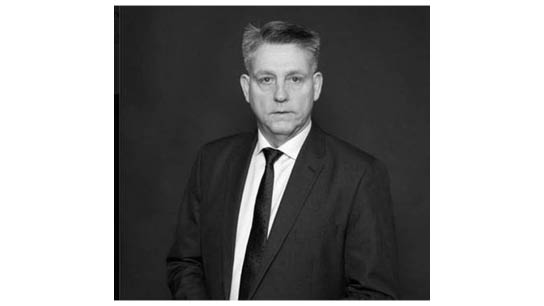 In 2014, following 30 years in policing, including leading London's Metropolitan Police Human Trafficking Unit, Kevin Hyland OBE was appointed as the UK's first Independent Anti-Slavery Commissioner. In November 2018, Mr Hyland was elected as Ireland's representative to the Council of Europe Independent Group of Experts for Trafficking. He is the Senior Special Advisor of the Santa Marta Group, and leads several international anti trafficking projects, including the Responsible Recruitment Group of the Institute of Human Rights and Business, the Island of Ireland Human Trafficking Project and provides strategic leadership to the OSCE in the development of victim support guidance for member states.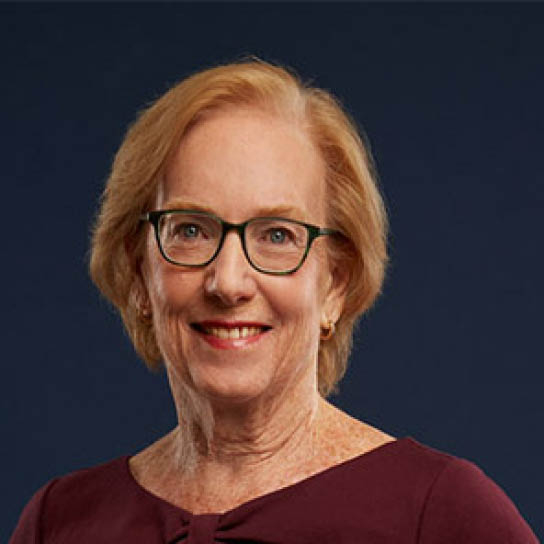 Dr Aiken is the Director for the Center for Health Outcomes and Policy Research and the Claire M. Fagin Leadership Professor of Nursin g Science and Professor of Sociology at the University of Pennsylvania, in the USA. Her pioneering research has created an evidence base showing the effect that nurse: patient ratios, higher levels of education, and improved working environments have on patient outcomes.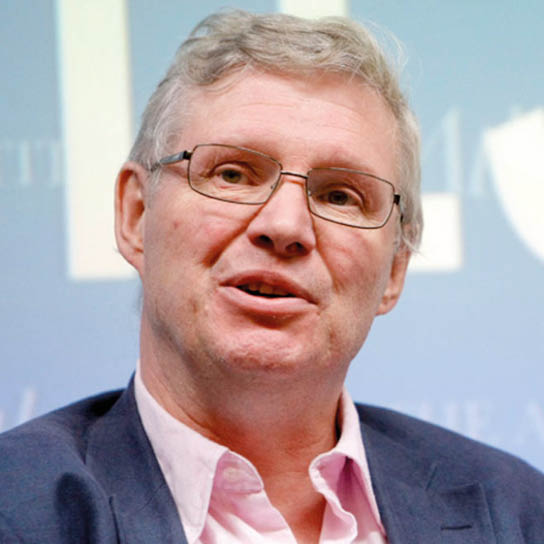 Lord Crisp is co-Chair of the Nursing Now campaign and an independent crossbench member of the UK House of Lords, where he co-chairs the All-Party Parliamentary Group on Global Health. He is a Senior Fellow at the Institute for Healthcare Improvement, an Honorary Professor at the London School of Hygiene and Tropical Medicine, and a Foreign Associate of the US National Academy of Medicine. He was previously Permanent Secretary of the UK Department of Health and Chief Executive of the English NHS, where he led major reforms between 2000 and 2006.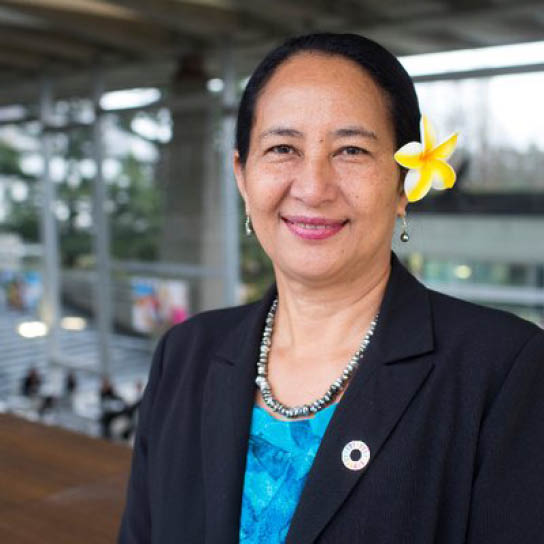 Before joining WHO, Elizabeth Iro had more than 30 years of experience in public health in the Cook Islands and regionally. As Secretary of Health of the Cook Islands, she implemented health reforms to strengthen the country's health system. These include developing the country's National Health Roadmap 2017-2036, the National Health Strategic Plan 2017-2021, and the Health Clinical Workforce Plan. She had previously served as the country's Chief Nursing Officer and Acting Director of Hospital Health Services. For the first 25 years of her career, she was a staff nurse, midwife and charge midwife at hospitals in the Cook Islands and New Zealand.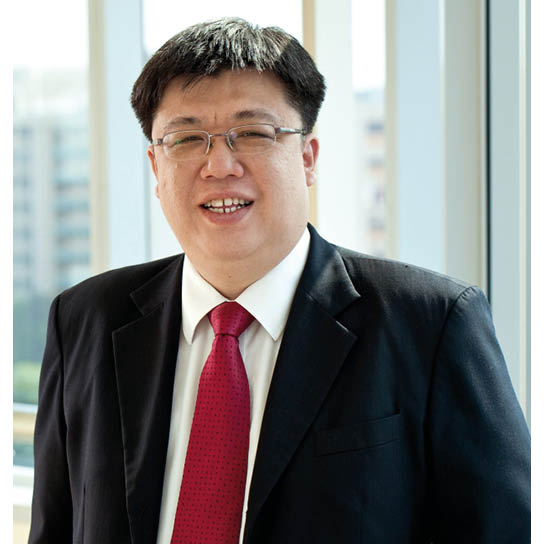 Dr Chien Earn Lee is currently the deputy group CEO of Singhealth and CEO of Changi General Hospital. Prior to these appointments he was the deputy director of medical services for health services and healthcare performance in the Ministry of Health Singapore where he led the strategic development and improvement of healthcare services. Dr Lee is an adjunct professor with the Saw Swee Hock School of Public Health, National University of Singapore and Singapore University of Technology and Design. He was a member of several international committees under the World Health Organization and Joint Commission International. Dr Lee currently chairs the Singapore Healthcare Improvement Network.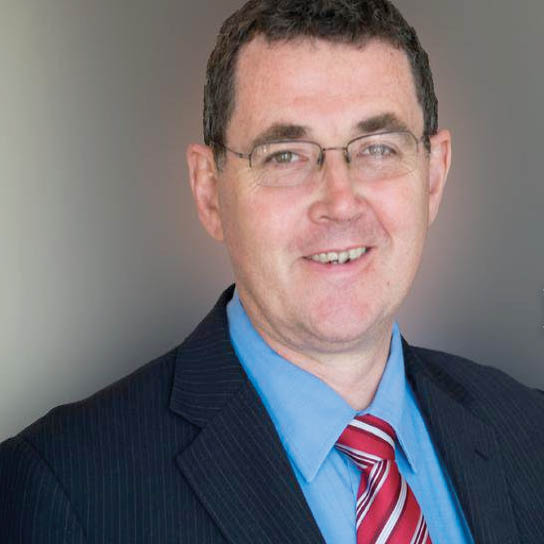 David Benton is Chief Executive Officer of the National Council of State Boards of Nursing (NCSBN). For ten years he worked at ICN as its consultant on nursing and health policy, and then as CEO. He is a qualified nurse and has a PhD from the University of Complutense, Madrid, for his international comparative analysis of the regulation of nursing practice. Dr Benton is acknowledged as a global expert in nursing and regulatory policy. He is a prolific author with over 200 peer reviewed and book chapters to his name and is the recipient of several awards and honours.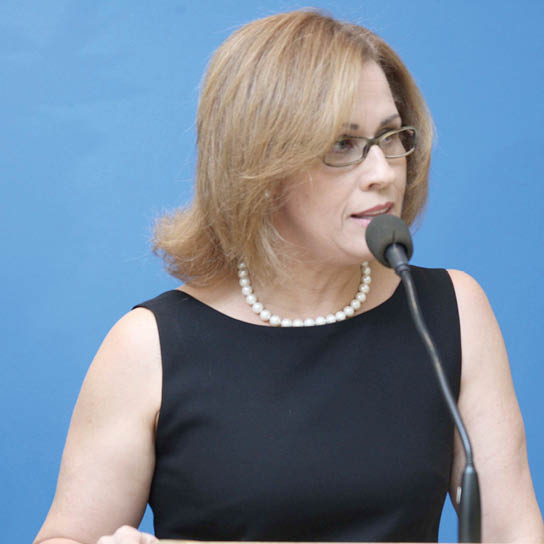 Dr. Silvia Cassiani has been the Regional Advisor for Nursing and Allied Health Technicians at the Pan American Health Organization/ World Health Organization in Washington, DC, since April 2013. She previously worked as Faculty, Department Head and Dean of the College of Nursing at Ribeirao Preto, University of Sao Paulo in Brazil. She has a PhD in Nursing from the university, has won a number of awards and has published several books and articles about nursing, patient safety and medication errors. She founded the Brazilian Network for Nursing and Patient Safety, which now has more than 1,000 members.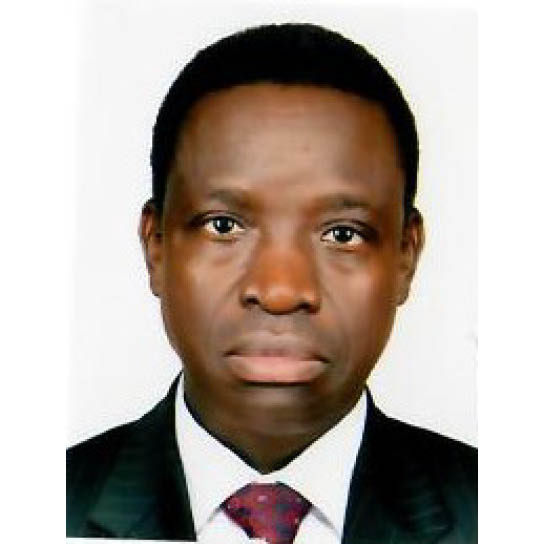 Professor Yoswa Mbulalina Dambisya
Professor Yoswa Mbulalina Dambisya (MB ChB; PhD) is the Director General of ECSA-HC since August 2014. Prior to joining ECSA-HC, Prof Dambisya worked for the University of Limpopo in South Africa. As Director General, he is charged with providing overall leadership and guidance to the technical and corporate programmes towards the realization of the ECSA-HC mandate. Prof Dambisya is a medical graduate with the MBChB degree from Makerere University, Kampala, and a PhD (Pharmacology) from the Chinese University of Hong Kong. He has undertaken several short-courses in various fields, including leadership and management, monitoring and evaluation, medical education, global health diplomacy, and strategic planning.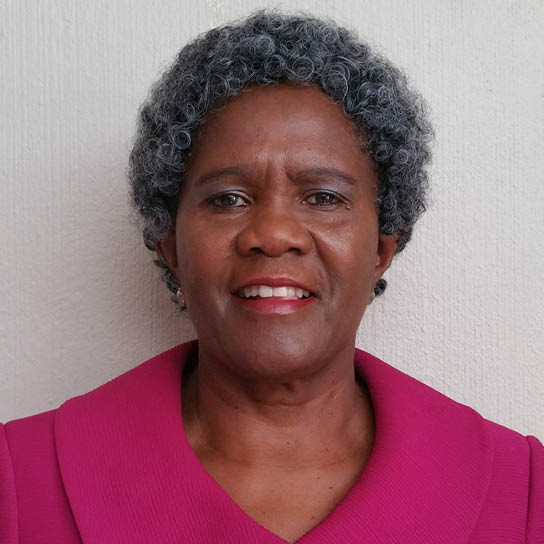 Dr. Thembeka Gwagwa is second Vice President of ICN and the founding General Secretary of the Democratic Nursing Organisation of South Africa (DENOSA). Africa. Trained as a nurses and a midwife, she has a Diploma in Nursing Administration, Diploma in Nursing Education, from the University of Limpopo, South Africa, and a Bcur from the University of South Africa. She served as General Secratery of DENOSA from 1997-2004, and was a Board member of the Pharmacy Council, Council of Medical Scheme and Office of the Health Standard Compliance. She was a Co-Founder SANNAM and has received several awards, including the STTI Excellent Leadership Award.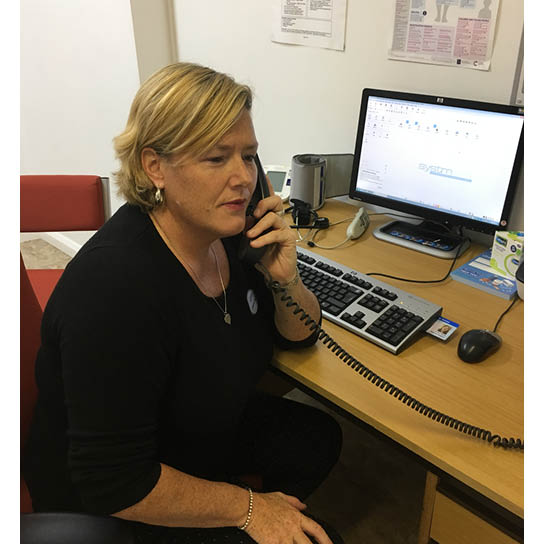 Dr Melanie Rogers is a University Teaching Fellow for Advanced Practice at the University of Huddersfield in the UK, and Chair of the International Council of Nurses, Nurse Practitioner/Advanced Practice Nurse Network. She holds the title of Queen's Nurse and has 25 years' experience in acute medicine, endocrinology, gynaecology, oncology and emergency care in the UK and Canada. Dr Rogers is passionate about advanced practice as a way of providing the care patients need when and where they need it. Her presentation will provide an overview of global perspectives of advanced practice nursing, including the new ICN definitions for the Advanced Practice Nurse roles. Khama Rogo is Lead Health Sector Specialist with the World Bank and Head of the World Bank Group's Health in Africa Initiative. He is a Professor in Obstetrics and Gynecology and a prominent advocate and global authority on reproductive health issues; and a visiting professor at several universities and author of over 100 papers and book chapters. Dr Rogo served on the Gender Advisory Panel of WHO, the Advisory Committee of the David and Lucile Packard Foundation, and the board of the Center for African Family Studies. He is currently on the board of INTRAHEALTH, among other responsibilities.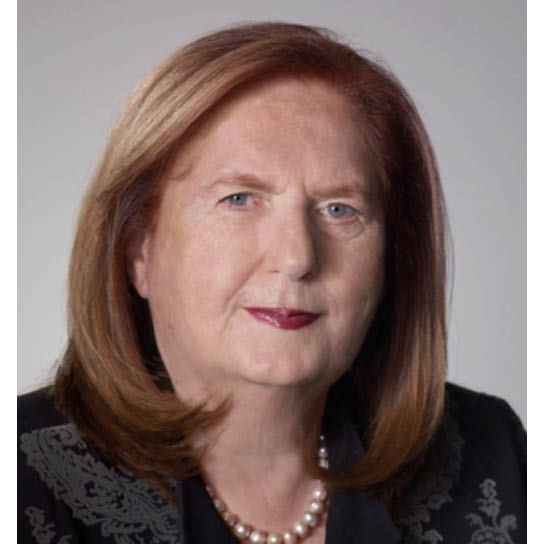 Dr Judith Shamian, RN, PhD, LLD (hon), D.Sci (hon), FAAN, is the immediate past President and President Emerita of ICN, and the past president of the Canadian Nurses Association (CNA). She is a professor at the Lawrence S. Bloomberg Faculty of Nursing at the University of Toronto, and the founding executive director of the Office of Nursing Policy at Health Canada the Canadian Federal Government. She holds four honorary doctorates and is the recipient of numerous awards including Canada's Most Powerful Women: Top 100 award from the Women's Executive Network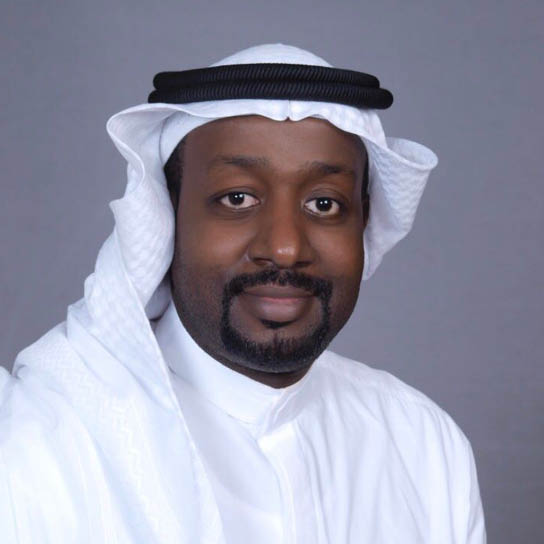 Dr Abdulelah M. Alhawsawi
Dr Alhawsawi is one of Saudi Arabia's healthcare quality leaders and advocates. His passion to performance im- provement started as a prac- ticing physician, where he ad- vanced in this role as a leader in provider organisations, re- searcher and health policy ex- pert. Through his current role as Director General of the Saudi Patient Safety Center, Dr Alhawsawi helped in establishing systems that achieve continuous improvement of the quality of services provided to patients and their families. Dr Alhawsawi plays an active role as one of the lead quality consultants for the World Health Organization (WHO) in the region.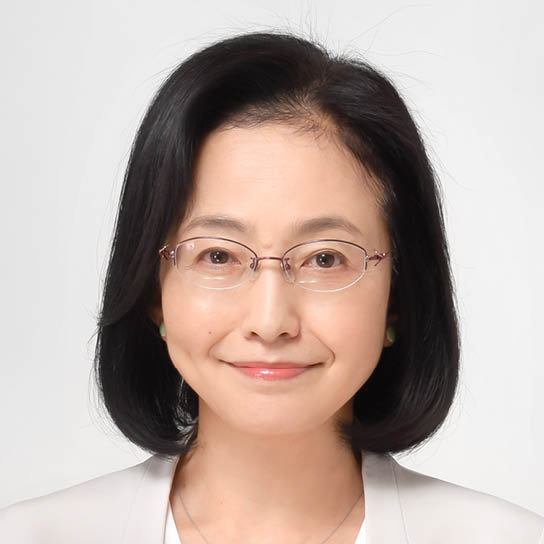 Dr Akiko Araki is an Executive Officer of Japanese Nursing Association. Her work focuses on home-based nursing, long- term care insurance system and nursing at long-term care facilities. Her efforts also ex- tend to restructuring of cre- dentialing system to meet the society needs. In Japan, the Government is promoting the reform of healthcare system in the context of super aging society with fewer children. Dr Araki promotes JNA efforts for nurses to meet the expected role in the community in changing healthcare system. She has worked in clinical settings as a nurse and nurse manager; in the area of Child Health and Rehabilitation; and has served as a Director of Nursing at the Chiba Rehabilitation Center.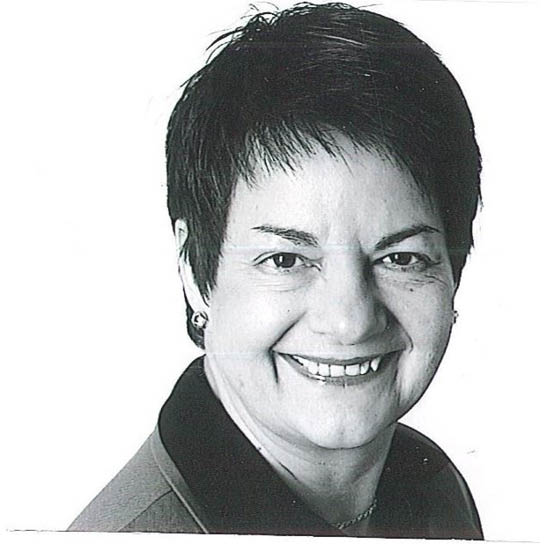 Karen Bjøro is an ICN Board Member, vice-president of the Norwegian Nurses Organiza- tion (NNO) and president of the European Nursing Research Foundation (2017-2019) ,where she was also a board member from 2015-2017. She is a steer- ing committee member of the European Forum for National Nurses and Midwifery Associations and a collaborative partner with the WHO European Region. Dr. Bjøro was associate pro- fessor of nursing at the University of Oslo, clinical researcher at the Orthopedic department of Oslo University Hospital, and chief nursing officer of Ullevål University Hospital in Oslo. Her research interests include delirium, pain assessment in older adults, pressure ulcers and patient safety culture.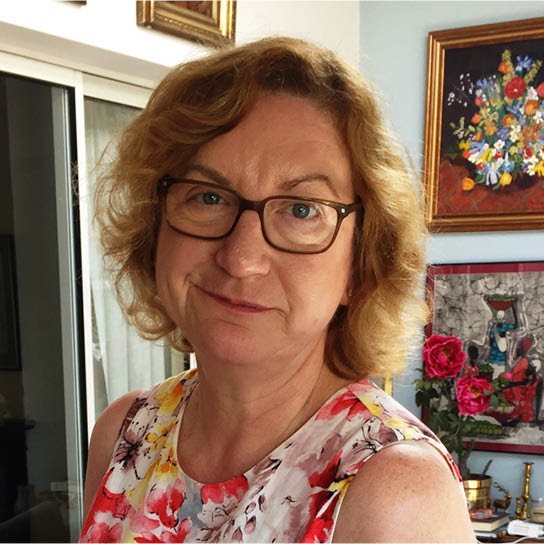 Anne-Marie Ryan is the Direc- tor of Operations (Regulation) with the Nursing and Midwifery Board of Ireland (NMBI). She has led and developed many national policy projects to sup- port the developing role of the nurse. Previously, as Deputy Chief Nursing Officer in the Department of Health her ex- perience in regulation supported a patient-centred and safe- ty approach to meet service need within a professionalising agenda. Anne-Marie actively engaged in the modernisation of education policy of the European Union Directive 2005/36/EC. She completed her doctoral studies with Dublin City University.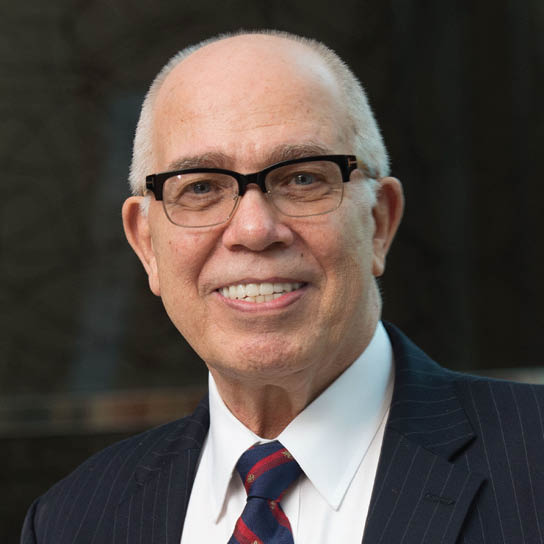 Dr. Franklin A. Shaffer is the President and Chief Execu- tive Officer of CGFNS Interna- tional. He earned his doctor- ate in nursing administration and nursing education at Co- lumbia University and has 50 years of progressive and var- ied nursing experience which includes administration, education, clinical and research. His recent work includes the National Nursing Assessment Ser- vice project which provides a leading-edge technology-based assessment system to evaluate the credentials of foreign-ed- ucated nurses seeking licensure across provinces in Canada. Dr. Shaffer is also a principle investigator for the International Labor Organization's Decent Work Across Borders Initiative, focusing on comparative analyses of nursing education and migration issues involving Denmark, Finland, India, Norway and the Philippines.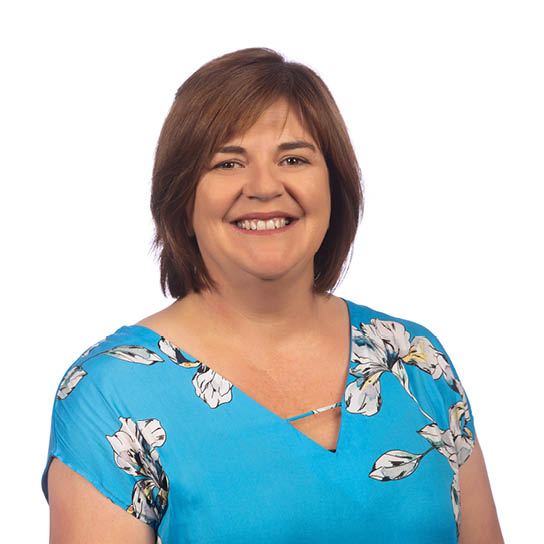 Tanya Vogt was appointed the Executive Officer of the Nurs- ing and Midwifery Board of Australia in July 2014. She has been working in the area of health practitioner regulation in Australia since 2007 and was directly involved in the development of the National Registration and Accreditation Scheme in Australia. Ms Vogt has qualifications in nursing and law and has practised in both areas. The combination of these qualifications has provided a solid foundation for her roles in health practitioner regulation and the role of Executive Officer for the Nursing and Midwifery Board of Australia.
Venue
Sponsorship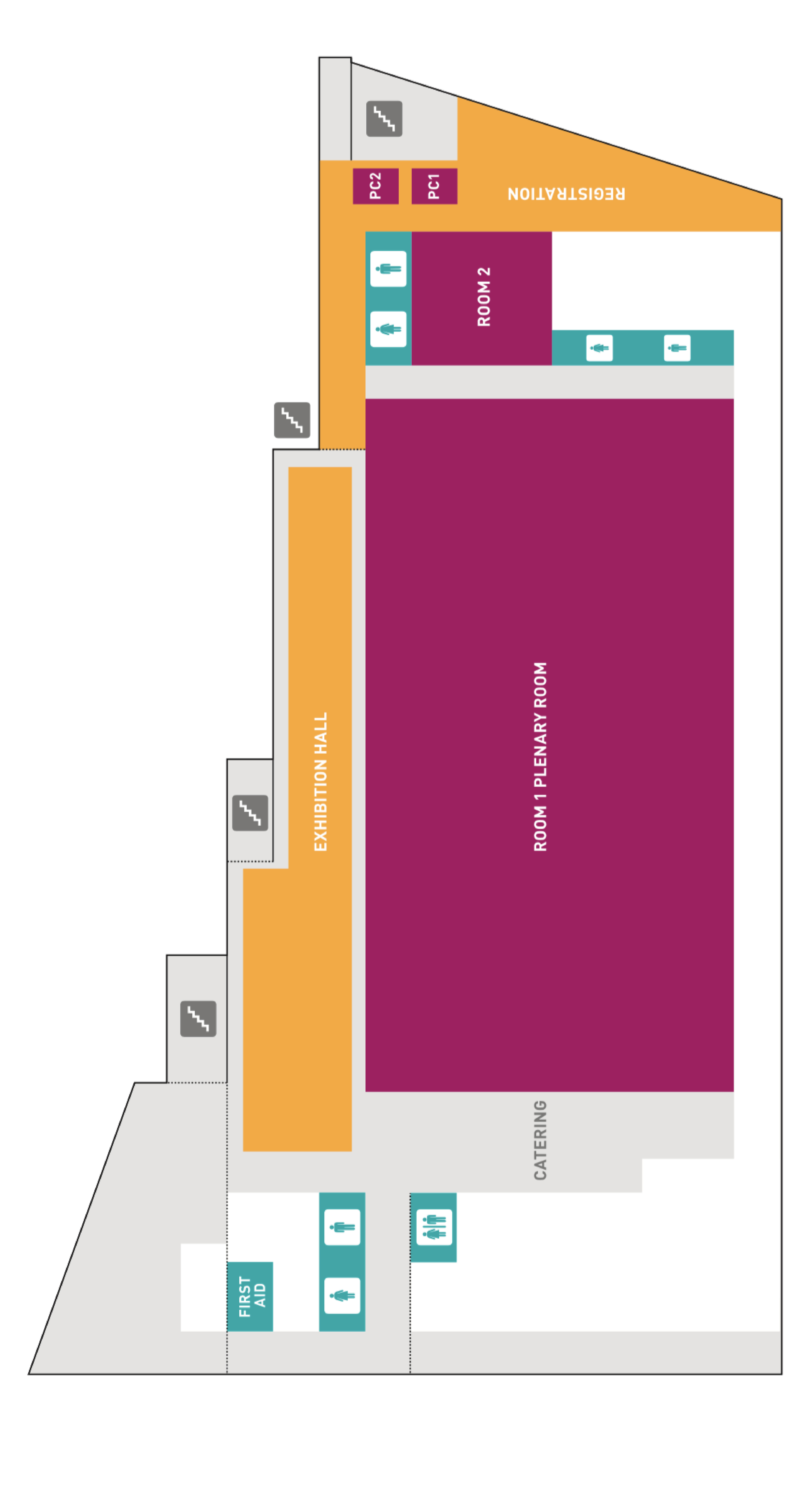 ICN is pleased to offer some great sponsorship opportunities to help promote your organization at the ICN Congress in Singapore. Click below to download the pdf or contact us.
Download
Linked events
26 June 2019 9:00 - 17:30
Student Assembly
The Academia at the Singapore General Hospital
The ICN Congress Nursing Student Assembly will be held on Wednesday, 26 June from 09:00 to 17:00 at the Academia at the Singapore General Hospital. Registration will begin at 08:30. Simultaneous interpretation will be provided in English, French and Spanish. The Assembly provides nursing students the op- portunity to connect, explore and collaborate on priority issues.
SPEAKERS: Meagen Bransgrove, Serena Ricciardone, Robbie Bedbrook, Eugene Theoh, Munashe Nyika, Sarah Walji, Paisly Semnyuk, Julian Vadell Martinez, Erica Burton.
30 June
FNIF/GCEF Fundraising Session
Marina Bay Sands
For many years an FNIF Fundraising Luncheon has been held at the ICN Congress to celebrate and raise funds for the Girl Child Education Fund (GCEF). In 2019, in an effort to extend the knowledge of and interest in the work and achievements of the GCEF, ICN and FNIF have decided to create a lunchtime session open to all delegates and free of charge. We invite you to help yourself to the buffet lunch available to all delegates and join us in the Plenary Hall on Sunday 30 June from 13:30 for a special fundraising session to learn more about FNIF and the ICN's Girl Child Education Fund and how you can help support the orphaned daughters of your colleagues in Africa. Dr Joyce Fitzpatrick, the recipient of the 2019 FNIF International Achievement Award, will present her research at this lively and interactive session.
Partners
---