Contributor: Teresa Kloning, ICU nurse in Germany and HDU nurse in a Mobile surgical team within the International Committee of the Red Cross
On the occasion of World Mental Health Day, 10 October, we bring you a story from South Sudan about a wounded man whose road to mental and physical recovery is supported by compassionate ICRC nurses.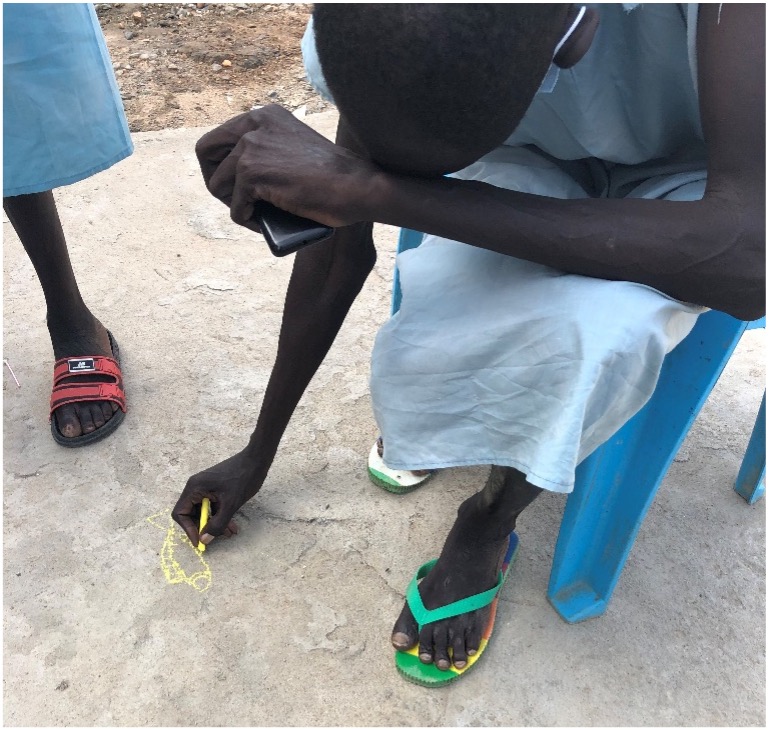 The International Committee of the Red Cross (ICRC) has a strong team of staff who work in close collaboration with Ministry of Health (MoH) of South Sudan to provide free healthcare to the civilian population and wounded fighters. As an impartial and neutral organisation, the ICRC assists and treats every person equally, no matter what their background.
In the capital of South Sudan, in the third quarter of 2020, a total of 52 patients were admitted to Juba Military Hospital. The provided treatment included surgical care, nursing care, radiology, laboratory, mental health support, economic assistance, physical rehabilitation and restoring links between family members who have been separated due to conflict.
The nursing team is involved at all levels of treatment of patients. Three international nurses are working in the Operating Theatre, High Dependency Unit (HDU) and wards to support national and MoH colleagues in implementing the ICRC standards of safe healthcare and hygiene. Everywhere in the world, nurses are the closest contact for patients. They can assess and monitor if the patient's physical and mental conditions are stable, improving or deteriorating.
In June 2020, during the height of the global COVID-19 pandemic, G.K., a 33 man sustained a gunshot wound to his abdomen. He was left in his village for five days before going to a nearby hospital. G.K. was transferred to the ICRC-supported hospital in Juba. After three operations, he tested positive for COVID-19 and was immediately isolated. He responded positively to treatment and was declared negative after 21 days.
Due to his injures and complications, the patient found it difficult to accept the long waiting time until his final operation. The mental health team were important in providing him support. To make him feel closer to his loved ones, the ICRC team arranged a satellite call to speak with his family which made him happier. Despite this, he was still worried that he may not be able return to a normal life after leaving the hospital. He started to refuse to eat and lost weight. The team observed that he barely got up from his bed and rarely interacted with other patients or staff.
The international HDU nurse decided to start an activity with patients, while wearing masks and physically distancing, to try to boost the mood of inpatients. Starting with the only admitted child and her caretaker, she gave the patients pieces of coloured chalk, and they began to draw cows, crocodiles and ICRC helicopters on the ground outside. The nurse asked G.K.—non-verbally, as they did not have a common language—to join her outside. To her surprise, he followed, sat on a distant chair and observed. The mental health colleague interacted with the patients and encouraged them to continue drawing. G.K. was offered a piece of chalk. His first drawing was a fish, and the second a cow, which he then identified with his name. Soon afterwards, he went inside and brushed his teeth, and then smiled while eating.
The nurse arranged for him to receive a daily glass of a local hibiscus juice, which is considered to give strength. He would drink the juice and eat a little more every day. After boosting his social interactions and his resumption of eating, his physical and mental distress levels showed significant signs of improvement and he began to gain weight.
It was thanks to the gentle intervention of the HDU nurses, showing compassion with psychologically affected patients, supporting them in their needs and reapproaching them to reach out when they are ready, that G.K. started his road to recovery.