Singapore; Geneva, Switzerland, 1 July 2019 – A new interactive exhibition detailing the 120-year history of the International Council of Nurses has been launched at its Congress in Singapore, where more than 5,000 nurses are gathered.
The exhibition and its app lead viewers on an interactive journey through the 12 decades of ICN, from its founding on 1 July 1899 during the women's suffrage movement through the highs and lows, successes and challenges of the last 120 years, culminating in a look towards the future of ICN and nursing.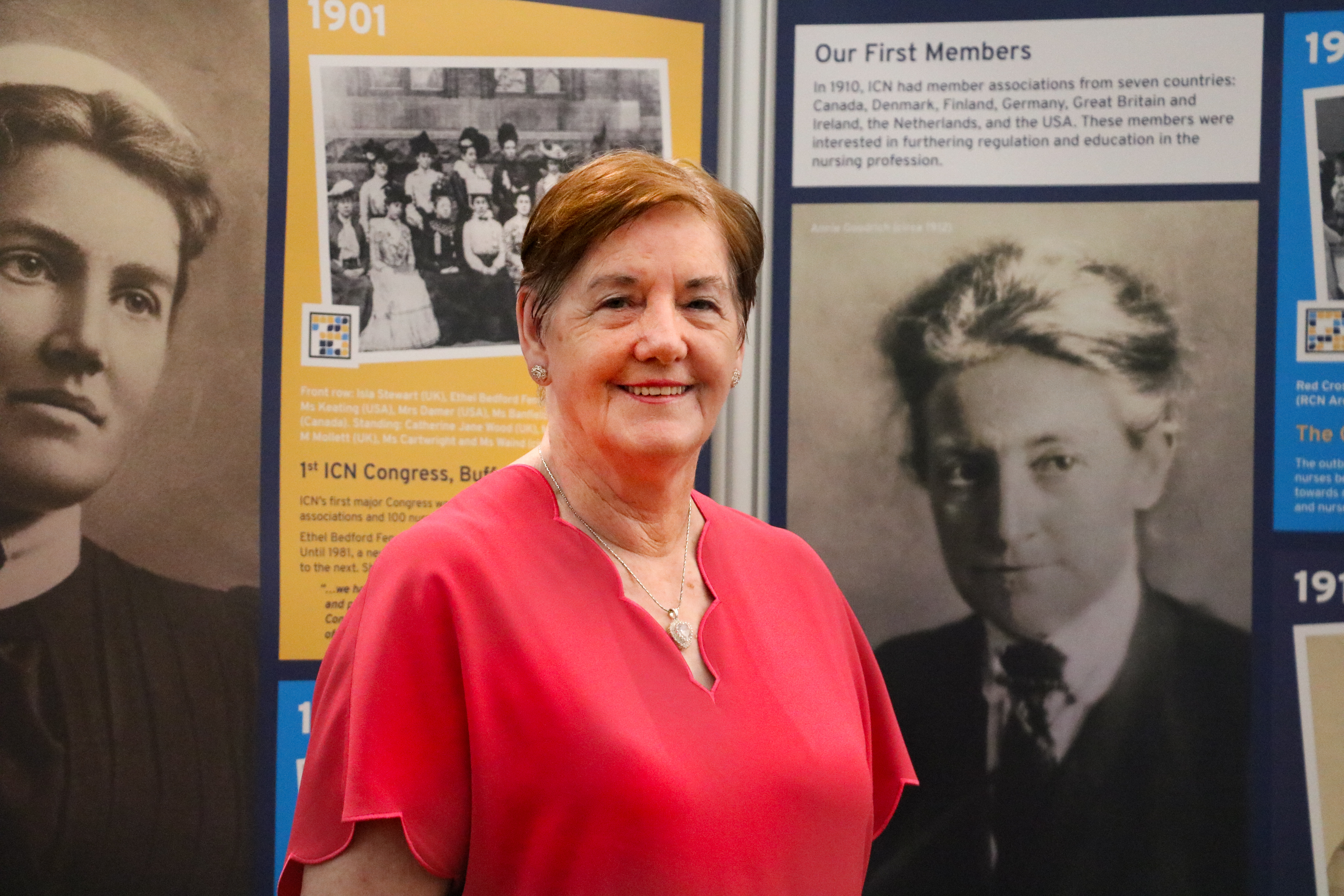 Research for the exhibition was carried out by Professor Marie Carney, Dean Emeritus and postdoctoral research fellow at the Royal College of Surgeons in Ireland Faculty of Nursing and Midwifery. A 120th commemorative book by Professor Carney will be produced later in the year.
Opening the exhibition on the ICN's Founders' Day, 1 July, ICN President Annette Kennedy said:
'It gives me great pleasure to stand here in front of this wonderful exhibition about ICN's long and illustrious history. I'm sure you will all agree that it looks marvellous, and I hope you will take the time to read it and enjoy the interactive elements. 'We can't really know where we are going unless we understand where we have been and how we got here, and this exhibition highlights some of the tremendous work done by pioneering nurses down the years.
'Each of the nurses mentioned here deserve praise for what they achieved, but that praise should also be heaped on the millions who continue to toil away quietly at their work, getting the job done, caring for people and their families, the sick, the injured and the dying.
'ICN exists to support nurses and nursing, and I am sure this exhibition and the book that is to follow, will help to show how we have endeavoured to achieve that goal. 'Please join me in congratulating the researcher/author Professor Marie Carney, our software experts and designers who have made the past come alive.'
The 120th anniversary exhibition was part of the ICN Congresses' commercial and professional exhibition at its Singapore Congress, 27 June- 1 July.
---
Note for Editors
The International Council of Nurses (ICN) is a federation of more than 130 national nurses' associations representing the millions of nurses worldwide. Operated by nurses and leading nursing internationally, ICN works to ensure quality care for all and sound health policies globally.
For further information please contact
Gyorgy Madarasz, Press Officer, International Council of Nurses, Tel: +41 22 908 01 16
ICN/PR2019#37