"A force that can realise health for all. A force that can realise universal health coverage"
30 June 2019
WHO Director General reconfirms support of nursing workforce Dr Tedros Adhanom Ghebreyesus makes surprise visit to International Council of Nurses' Congress
Singapore; Geneva, Switzerland, 30 June 2019 – WHO Director-General, Dr Tedros Adhanom Ghebreyesus, today visited the international Council of Nurses (ICN) Congress in Singapore, where over 5,000 nurses are currently discussing the challenges and opportunities of the profession. He addressed a full plenary hall, saying "It's time to go beyond healthcare to health: nurses and midwives are an essential part of that transformation to lead this work." He received a standing ovation from the audience.
The Director General made a surprise visit to the ICN Congress after concluding a visit to Osaka, Japan for the G20 Summit, where he called on the G20 countries to invest in health.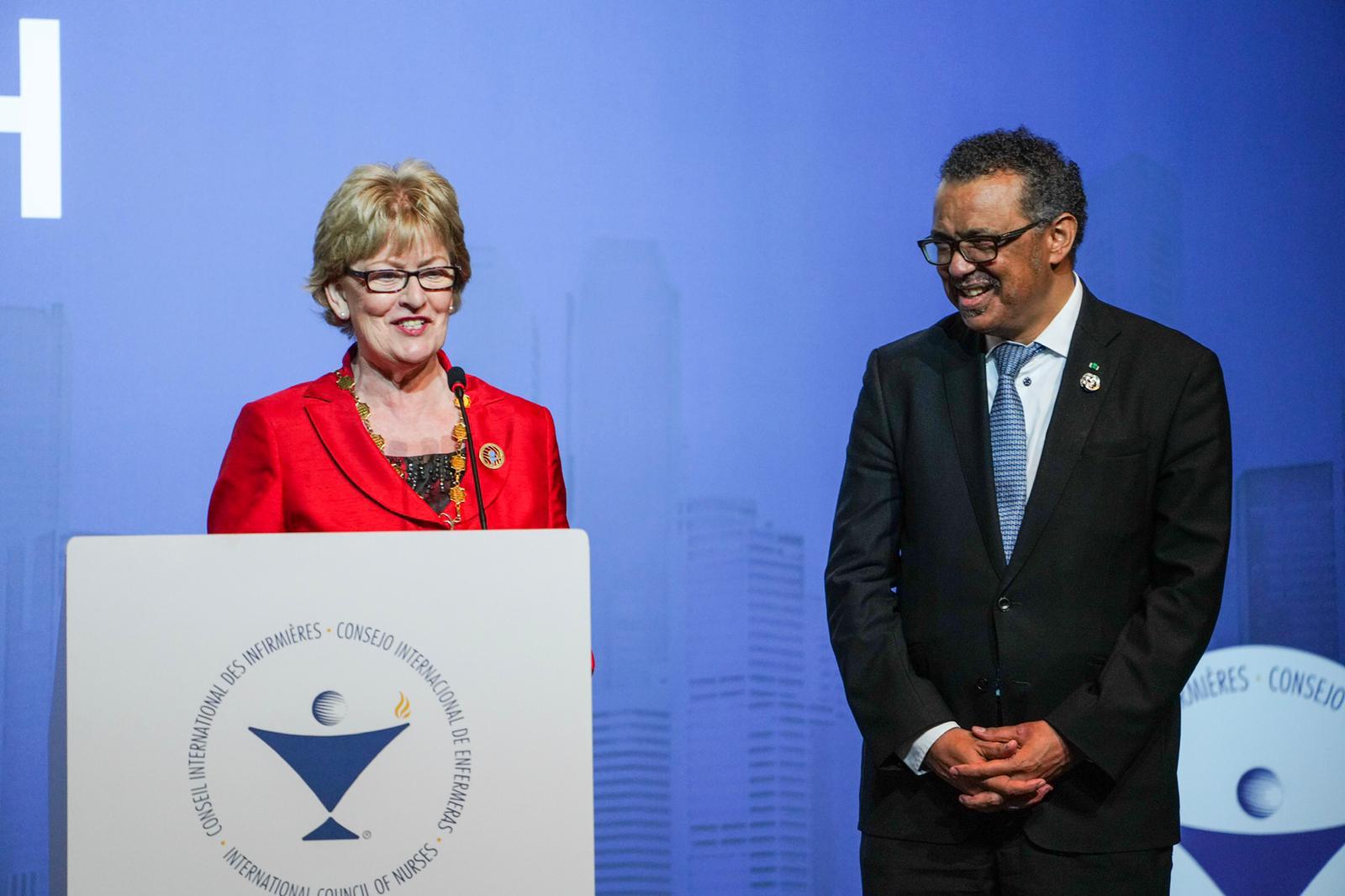 Dr Tedros, a strong supporter of the nursing profession, said "It is such a great honour to be here with you. …This is a force to reckon with and I can see the energy and vibe! That vibe or energy is very important to realise the Sustainable Development Goals – the agenda 2030. A force that can realise health for all. A force that can realise universal health coverage. The role of nurses is very important, and that's why I am saying "force, force" and more than 50% of the workforce is nurses and midwives. You have a huge contribution and impact and that's why for any country to recognize nurses and midwives as key members of the health workforce that can help to realise the dream of any country in terms of better quality of scale is something that really you don't need to debate. That's why I'm here. You are a force to reckon with and a force that can help in realising UHC and the honour is mine. I am so pleased to be here."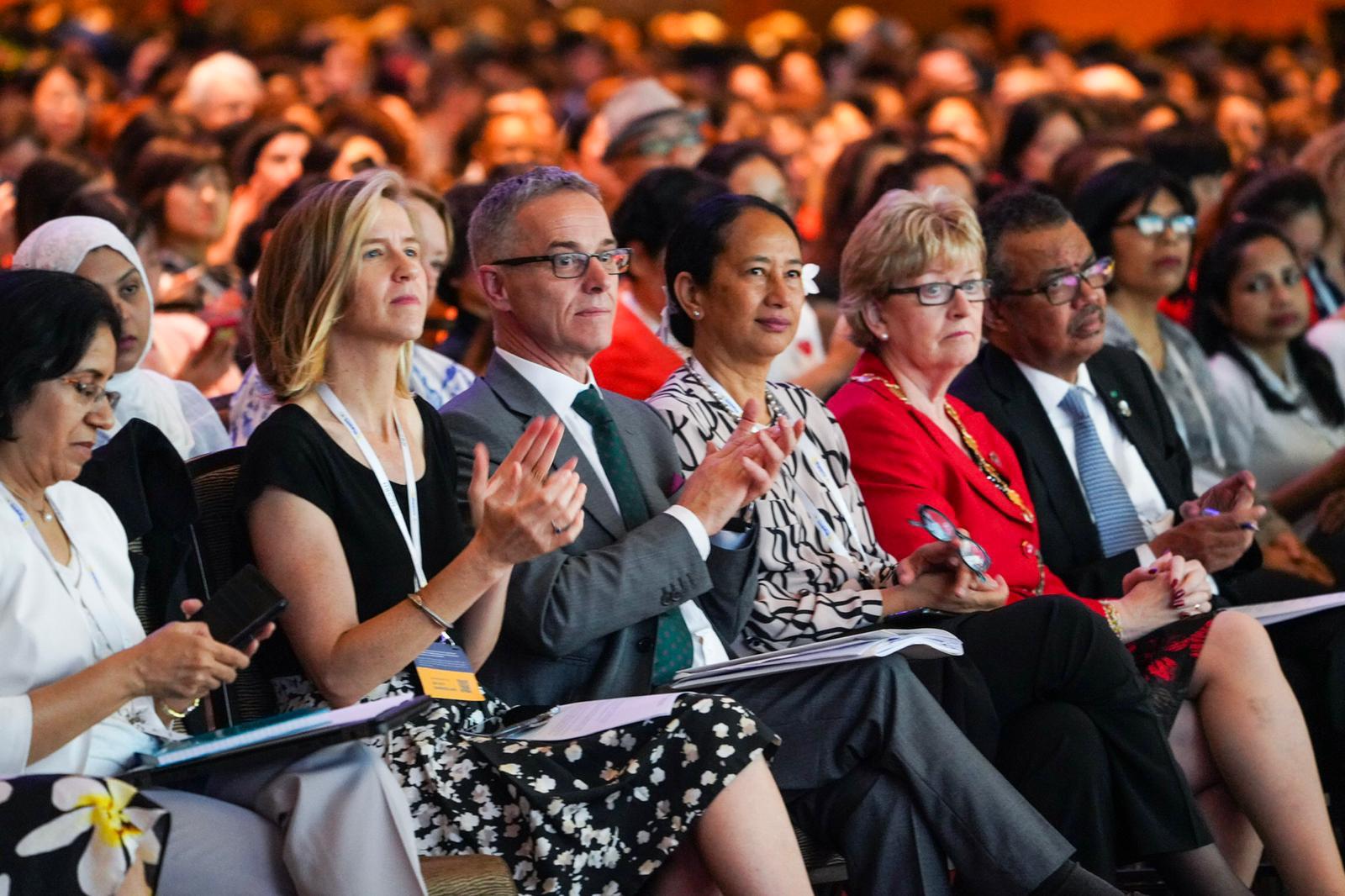 "Annette," he said, referring to the ICN President, Annette Kennedy, "You have done a truly amazing job in mobilizing the global nursing workforce and in highlighting the incredible job that nurses do and their value to us all. Congratulations to you and to all nurses on the 120th anniversary of ICN." "ICN is a very important partner for WHO on a range of issues, including universal health care, quality of care, noncommunicable diseases, antimicrobial resistance and more…"
The ICN Congress continues till Monday, 1 July. For details of the Congress programme go to: http://www.professionalabstracts.com/icn2019/iplanner/#/grid
Download the Congress app free of charge from the App Store for iPhones and from the Play Store for Android phones. After opening one of these stores, type "K.I.T. Group" in the search toolbar.
---
Note for Editors
The International Council of Nurses (ICN) is a federation of more than 130 national nurses' associations representing the millions of nurses worldwide. Operated by nurses and leading nursing internationally, ICN works to ensure quality care for all and sound health policies globally.
For further information please contact
Gyorgy Madarasz, Press Officer, International Council of Nurses, Tel: +41 22 908 01 16
ICN/PR2019#33
---
---