Elias Al Aaraj selected as recipient of 2019 Kim Mo Im Policy Innovation and Impact Award

Geneva, Switzerland, 24 January 2019 – Elias Al Aaraj has been selected as the recipient of the 2019 Kim Mo Im Policy Innovation and Impact Award by the International Council of Nurses (ICN) for introducing harm reduction services in Lebanon and in various Middle East and North African countrie.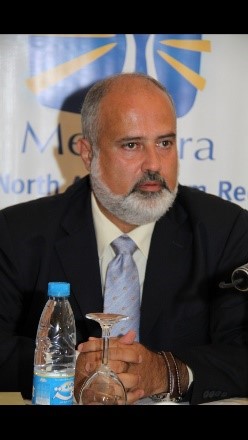 This Award is granted once in every two years to a nurse who has demonstrated an outstanding achievement and impact in nursing and/or health and public policy innovation regarding health care and/or education. The selection committee has chosen Mr. Al Aaraj who will receive a US$10,000 grant with the Award.
"I'm delighted and honoured that ICN and the Selection Committee chose me as the recipient of this important Award" said Mr. Elias Al Aaraj. "This work naturally cannot be done by one person, this Award is the recognition of the hard work and dedication of those as well who cooperated with me in providing the harm reduction services," emphasised Mr. Al Aaraj mentioning a very important humanitarian factor in his work: "I learned during my exercises with marginalised populations that sharing a smile with others offers us joy, opens the door of sad hearts, breaks the loneliness and relieves the pain."
For almost three decades Mr. Al Aaraj has been an avid fighter for the cause of HIV not only in Lebanon but in the Middle East and North Africa region. Besides being the main founder of one of the first community organisations in Lebanon and in the region to work directly on care and prevention services to people affected and living with HIV, he has been a catalytic agent in his country behind the change of many policies and laws that hindered the access of people at risk to harm reduction and much needed prevention services. To take this expertise at regional level, he founded and directed for the last decade the Middle East and North Africa Harm Reduction Association (MENAHRA), the only regional association promoting and advocating for harm reduction services among Injecting Drug Users and other key populations at risk of HIV. Moreover, in his capacity as President of the Regional/ Arab Network Against AIDS (RANAA), established in 2002 as a regional hub and network of national networks of HIV in the different MENA countries, he managed to take HIV response to different levels of regional political commitment and advocacy. In 2015, he led the Regional Network to sign a Memorandum of Understanding with the League of Arab States, making it a milestone as well as a precedent in partnerships between civil society organisation and an inter-governmental body.
Ms. Nora Eloísa Barahona Peñate and two of her colleagues, Reina Hernández de Carpio and María Teresa Deodanes de Ventura, were selected as the runners-up for the Kim Mo Im Award for their work on promoting nursing care quality management, as well as the governance of the nursing profession before government institutions in El Salvador. They will receive a grant of US$ 5,000. The Kim Mo Im Policy Innovation and Impact Award will be presented at the Opening Ceremony of the ICN Congress in Singapore on Thursday, 27 June 2019, and Mr Al Aaraj will have the opportunity to present his innovative work in a keynote plenary on Monday, 1 July.
Register for Congress here.
---
Note for Editors
About the Kim Mo Im Policy Innovation and Impact Award Dr Kim Mo Im is a pioneer and an evolutional leader in various areas for social and health development. She was the first nurse in South Korea appointed to Minister of Health. She was a member of the WHO Expert Panel of Nursing for 20 years and ICN President from 1989 to 1993. Dr Kim donated all her personal assets to Yonsei University, and, in her honour, the University established a nursing research institute bearing her name. In 2015, Dr Kim received the Yu Ilhan Prize, which is given biannually to a person who has made significant contributions to national and social advancement while leading a most exemplary life for all to emulate. Dr Kim decided to donate the entire prize money in the amount of $100,000 combined with additional funds from the Kim Mo Im Nursing Advancement Fund and donations from her personal assets. Her tremendous generosity has led to the establishment of this ICN award in collaboration with the Kim Mo Im Institute for the Studies of Nursing at Yonsei University.
The International Council of Nurses (ICN) is a federation of more than 130 national nurses' associations representing the millions of nurses worldwide. Operated by nurses and leading nursing internationally, ICN works to ensure quality care for all and sound health policies globally.
For further information please contact
Gyorgy Madarasz, Press Officer, International Council of Nurses, Tel: +41 22 908 01 16
ICN/PR2019#03
---
---