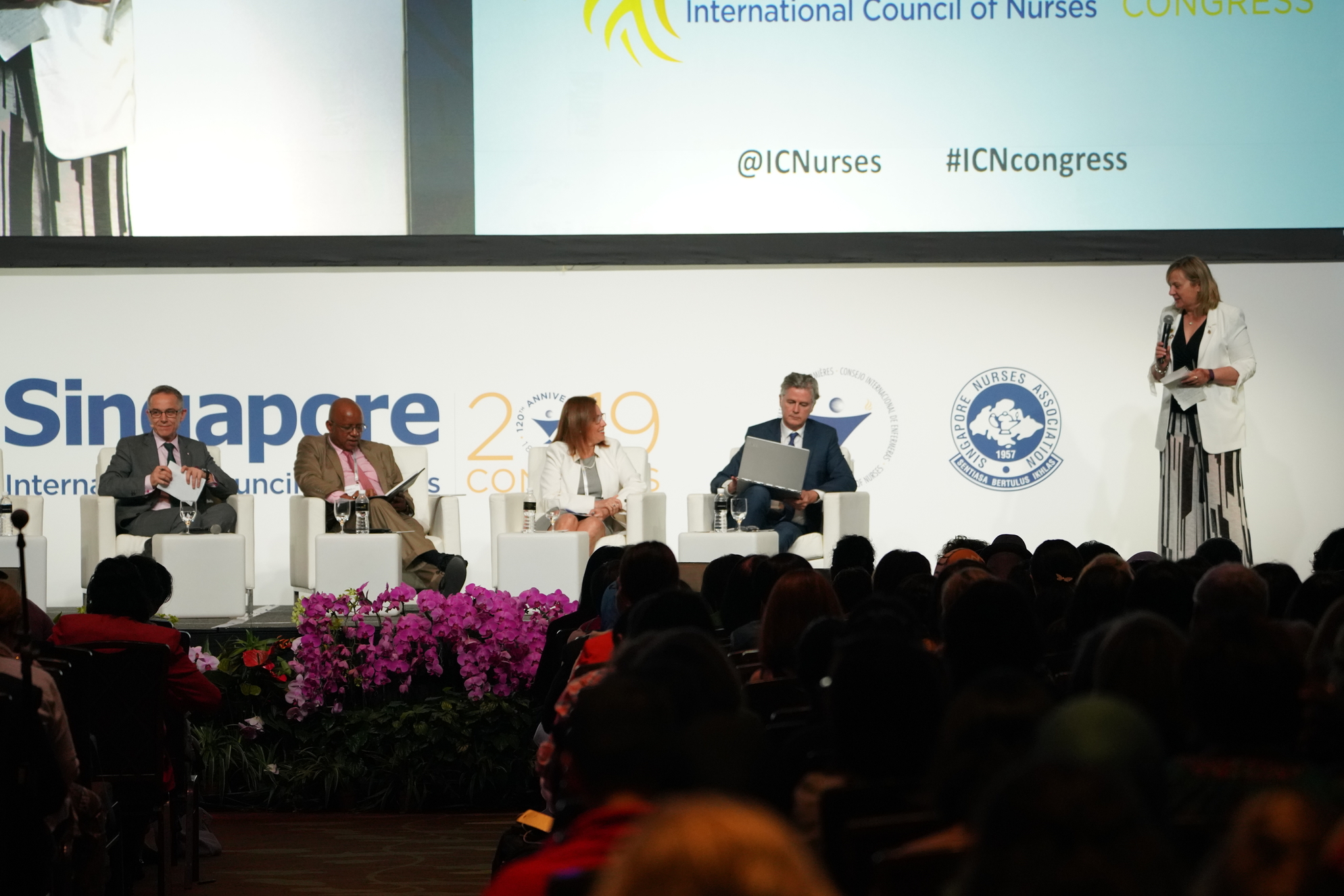 Data, Dialogue and Decision – Investing in Nursing can help achieve the Sustainable Development Goals
1 July 2019
International Council of Nurses closes its Congress with key presentations
Singapore; Geneva, Switzerland, 1 July 2019 –Investment in educating, training, employing and supporting the health workforce, which is approximately 70% female, is required to achieve the health-related Sustainable Development Goals.
Addressing an audience of over 5000 nurses at the International Council of Nurses (ICN) Congress in Singapore today, Dr Jim Campbell, Director of the Health Workforce Department at the World Health Organization summed up the morning's presentations with three "D's":
Data – the role of data and how essential it is.
Dialogue – the role of NNAs and nurse leaders to use the data to start to have a conversation not only around the clinical value of nursing but also some of the policy considerations and the costs and investment.
Decision – a decision to make a change, a decision to introduce a new policy environment and to articulate the return on investment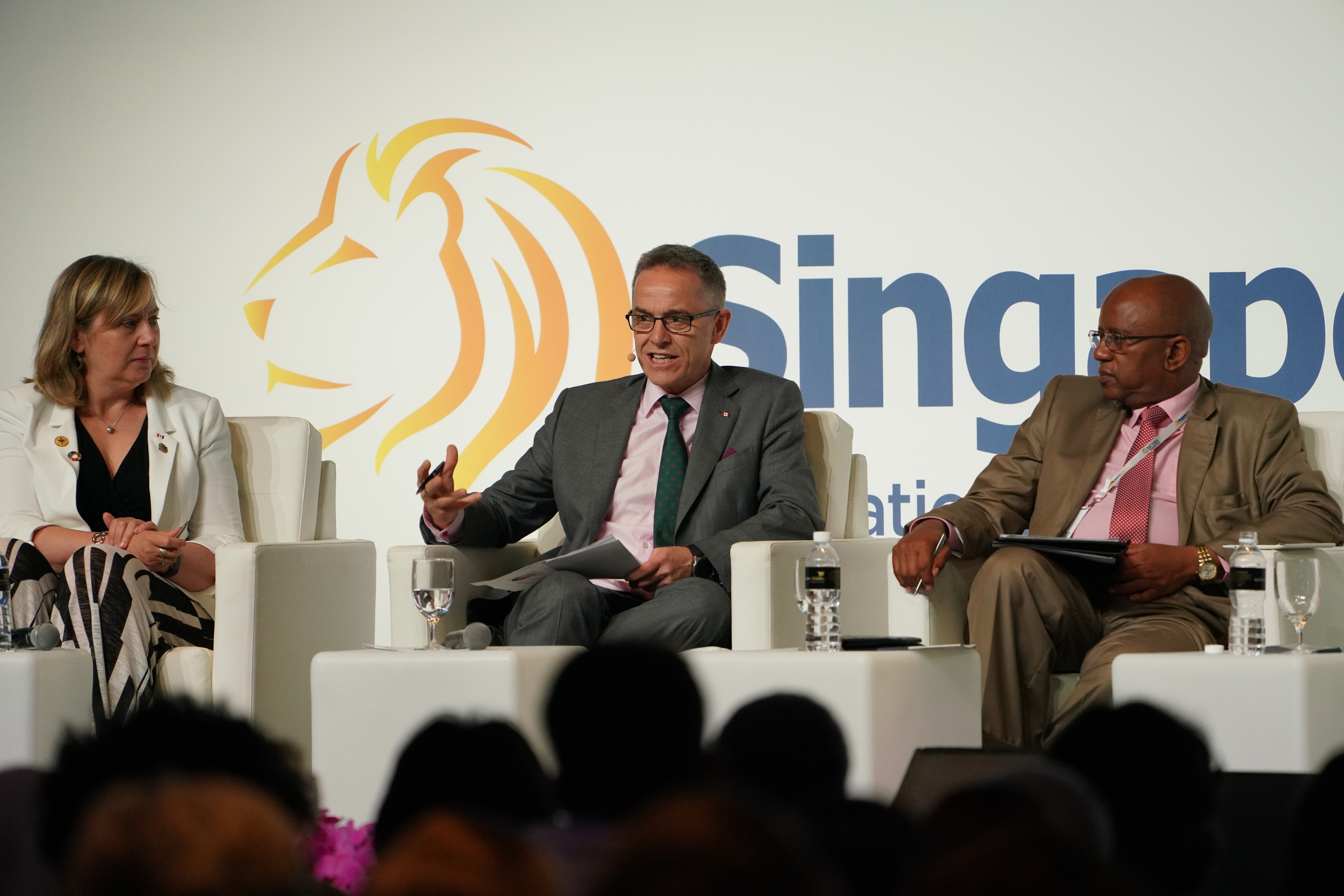 Countries need reliable health workforce data and robust evidence to know where and how to invest in their workforce to see impact in terms of the health system and health outcomes. Such information is particularly critical for nursing and midwifery, as these occupations can comprise more than half of a country's health workforce.
The first-ever State of the World's Nursing Report will provide countries and stakeholders with the data and evidence needed to support policy dialogue and decision-making around investment in the nursing and midwifery workforces for a stronger health system.
A practical example of how investing in nursing can impact the health of a society was provided by Mr Elias Al Araaj, recipient of the 2019 Kim Mo Im Policy Innovation and Impact Award which is granted once every two years to a nurse who has demonstrated policy innovation and impact. In order to support the population in a poor area of the Eastern suburb of Beirut during the civil war in Lebanon, Mr Al Araaj created a non-governmental organisation, SIDC, to promote home nursing care which also provided community development activities.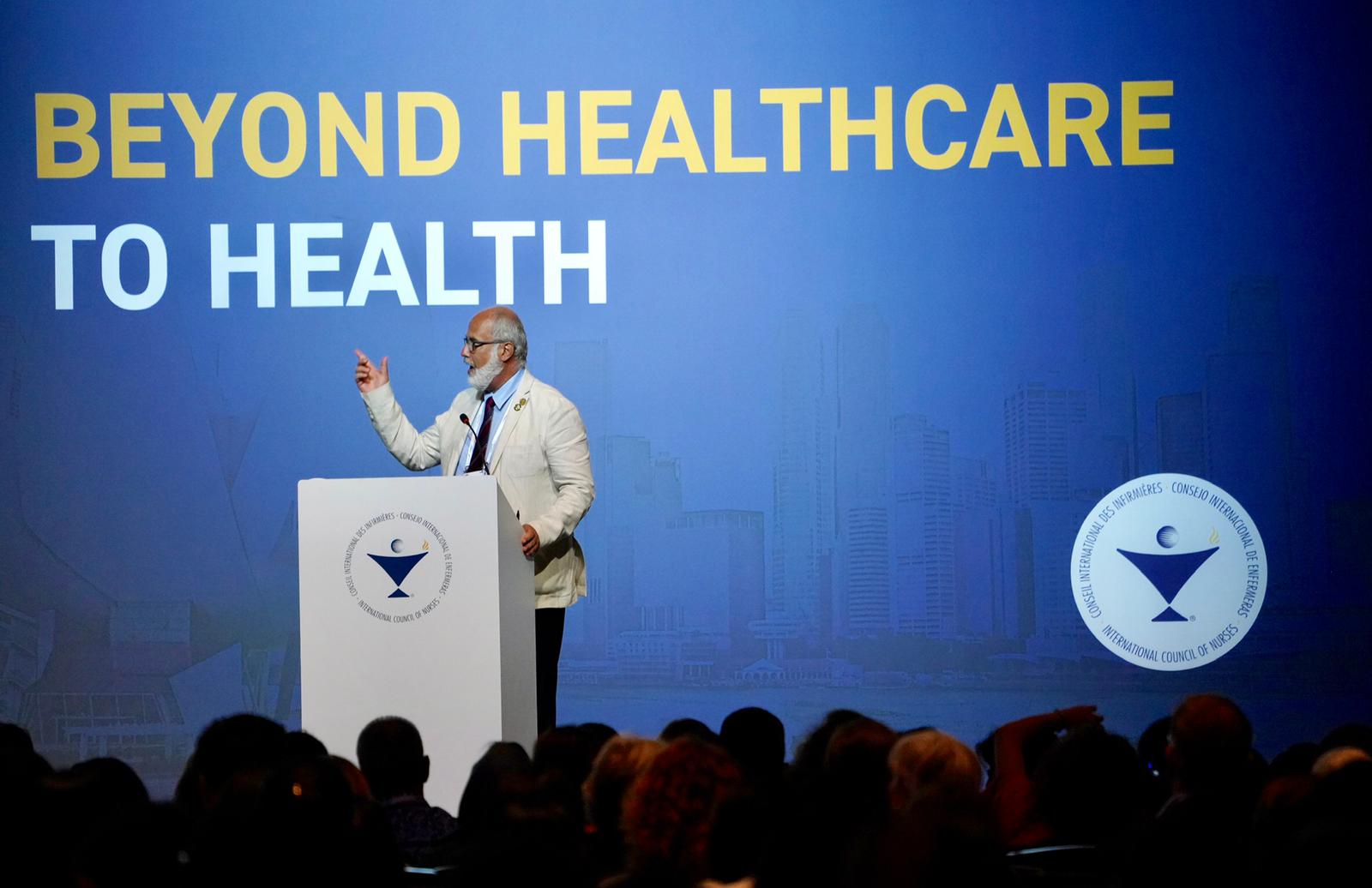 Migration and retention of nurses were the focus of presentations by Professor James Buchan and Dr Percy Mahlathi.
Every time that a nurse leaves a health care organisation there is an impact on the nurse, on the health care organisation, and on the client /patient population of the organisation, said Professor Buchan, Adjunct Professor at the University of Technology, Sydney (UTS) and an expert in nurse workforce policy and analysis. His presentation, based on the recent policy brief supported by ICN and CGFNS, offered a policy analysis framework for nurse retention, highlighting tools and indicators that can be used to help monitor the impact of policy interventions aimed at improving nurse retention.
Dr Percy Mahlathi, former Deputy Director General at the South African Ministry of Health, who spearheaded major innovations in the health workforce in South Africa including the Nursing Strategy 2008, spoke about the serious health planning and social challenges resulting from nursing migration patterns in many countries. He said that creating a better understanding of the patterns of movement of nurses and midwives should lead to policies that seek to implement systemic improvements for effective management of health workforce migration.
Dr Mahlathi encouraged nursing associations to engage with the policy makers in their country, giving the example of DENOSA in South Africa who appointed a senior nurse to work with the government for three years to mitigate against all forms of migration and form strong relationships.
"Actions have to commence with active participation of nursing associations in the development of migration and health workforce policies," he said.
Dr Silvia Cassiani, Regional Advisor for Nursing and Allied Health Technicians at the Pan American Health Organization/ World Health Organization, presented the Strategic Directions for Nursing in the Region of the Americas which recommends several action as solutions in the pursuit of universal health coverage, including strengthening and consolidating leadership in nursing; and transforming nurse education and training in collaboration with the education sector.
"81% of the nurses of the region are in just three countries: USA, Canada and Cuba, she reported. "There are countries like Honduras and Dominican Republic with less than five nurses per 10,000 population."
The crucial issue of the regulation of nursing in a challenging climate, where the nursing workforce is becoming increasingly global and mobile was also highlighted at the ICN Congress.
Dr David Benton, Chief Executive Officer of the National Council of State Boards of Nursing (NCSBN) gave an overview of the state of nursing regulation and the need for evidence.,
"Health professions have not been particularly proactive in providing evidence. But the evidence is out there. When you ask the question, who has written the most: joint first is the legal profession and nursing, but if you look at the research based, nursing comes first and we should be proud of that!"
Mercedes Gómez del Pulgar, Director-General of the Spanish Institute of Nursing Research, spoke about regulatory issues relating to nurse prescribing. The two speakers were then joined by a panel of experts in nursing regulation to discuss innovations and best practices in nursing regulation.
In well-functioning health systems, the regulation of nurses ensures that they can only remain on the nursing register if they maintain their competence, which guarantees the protection of the public. The discussion on nursing regulation considered how the growing international mobility of nurses, the impact of ageing populations and emerging technologies and treatments, and nurses working in new and advanced roles, pose problems for regulators.
ICN Chief Executive Officer Howard Catton said:
'ICN is committed to developing global strategies to engage regulators and ensure that these challenges are met and that patients are kept safe. It is only by having efficient and robust systems of regulation that we can ensure public protection and the integrity of our profession.'
The expert panel included:
David Benton – CEO, NCSBN
Mercedes Gómez del Pulgar, Director-General of the Spanish Institute of Nursing Research
Pamela Cipriano and Wu Ying – ICN Board members
Felix Nyante - Nursing and Midwifery Council of Ghana: African Regional Collaborative
Anne-Marie Ryan - Nursing and Midwifery Board of Ireland
Franklin A. Shaffer – CEO of CGFNS International, Inc., USA
Tanya Vogt - Nursing and Midwifery Board of Australia
For details of the Congress programme go to:
---
Note for Editors
The International Council of Nurses (ICN) is a federation of more than 130 national nurses' associations representing the millions of nurses worldwide. Operated by nurses and leading nursing internationally, ICN works to ensure quality care for all and sound health policies globally.
For further information please contact
Gyorgy Madarasz, Press Officer, International Council of Nurses, Tel: +41 22 908 01 16
ICN/PR2019#36
---
---