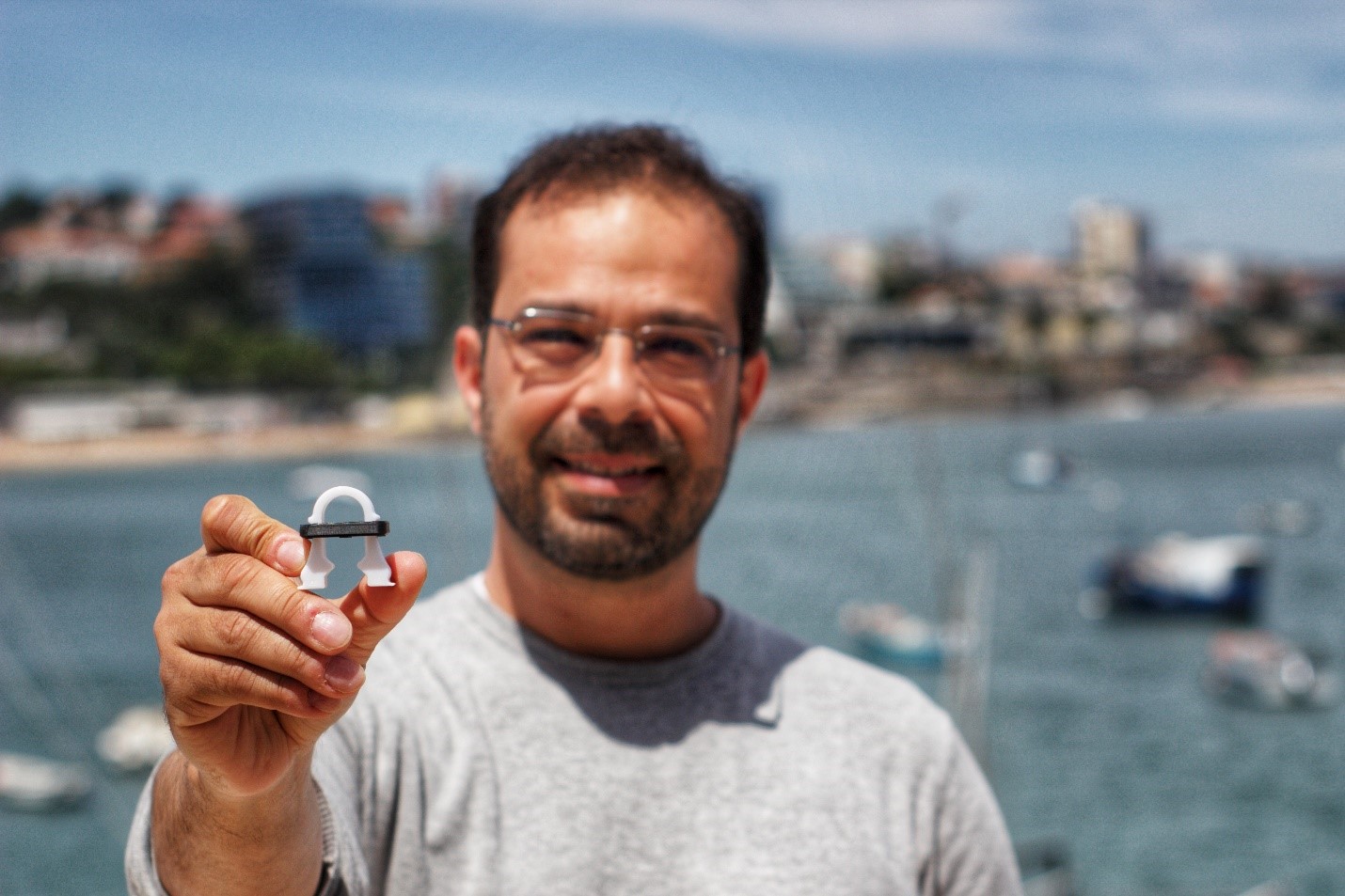 On the occasion of World Health Day 2021, ICN is pleased to bring you a story about an innovative nurse in Portugal who is contributing to building a fairer, healthier world by designing and printing a 3D Orotracheal Clamp Device to improve airway management, making it safer, easier to use and more accessible.
Mário Ricardo Cardoso Gomes is part of an operating theatre team that provided healthcare to COVID-19 patients for emergency surgery in a private central hospital in Lisbon (CUF Infante Santo). Like his colleagues, Mário felt great pressure, apprehension and anxiety from this new threat. He did his best to prepare himself to face this looming pandemic situation in a very short amount of time, knowing that nurses, like all health professionals, are trained to care for infected and infectious patients with all the risks inherent to that work.
Despite the training, Mário felt the extra pressure of the pandemic, due to the widespread chronic low investment in the health sector, resulting in insufficient material and, especially, human resources, and to the urgency of adapting to a new reality that requires everyone to reinvent themselves and adapt as well as possible.
Adapting is something that Mário is very good at! While caring for COVID-19 patients, Mário noticed that they required the safe clamping of the orotracheal tube during intubation and/or manipulation of the ventilatory circuit, in order to inhibiting aerosolization processes. It quickly became clear to him that the solutions currently available for the airway approach in this context were ineffective and deficient in terms of safety, accessibility and ease of use. As far as he could see, there was no equipment available, which was adequate, safe, easy to access and handle that would, in a practical way, guarantee safety in procedures for patients and professionals at the same time and that was still easily accessible to all professionals throughout Portugal.
Carefully studying the problem and coming up with a solution, Mário saw this as an opportunity and a challenge to apply some of the skills he had developed from his new hobby of 3D modelling and printing. Along with his friend, Márcio Pereira, Mário worked to make his idea into a reality, and to ensure that this device would be easily accessible to virtually all health professionals and institutions. Many design improvements were made until the final versions were ready! After the first functional prototypes were disseminated to the scientific community, they were immediately and widely accepted with excellent feedback Through a network of volunteer owners of 3D printers, they undertook the Herculean task to print several thousand quality devices in record time, delivering them to those who need them most in the acute period of the pandemic.
During the development of this device, versions with variants of the standard model have emerged, as a result of the analysis of the specific needs of some particular clinical contexts, namely the paediatric and extra-hospital contexts.
Currently, most national hospitals in Portugal (public and private) are using the device in their services, and several countries (England, Canada, Peru, Brazil, Venezuela, Bolivia, etc.) have ordered it. The device is currently in the final stages of international commercial launch by the British company DUPALUK.
Mário believes that, in the post-pandemic period, this orotracheal tube clamp methodology will bring some paradigm changes to airway management, both at in-hospital level (approach to infected patients in the emergency room, operating theatre, ICU, etc.) and extra-hospital level (where the unknown is the ever-present factor). It will certainly be a standard device in the future in the approach to the airway management.
"In general, Portuguese nurses are not only highly qualified professionals," says Mário. "but they are also professionals who by necessity of everyday life are highly inventive and very effective in mobilizing alternative resources to remedy the chronic or punctual flaws of the system."