South East Asia nurse leaders discuss regional challenges at ICN webinar
4 August 2022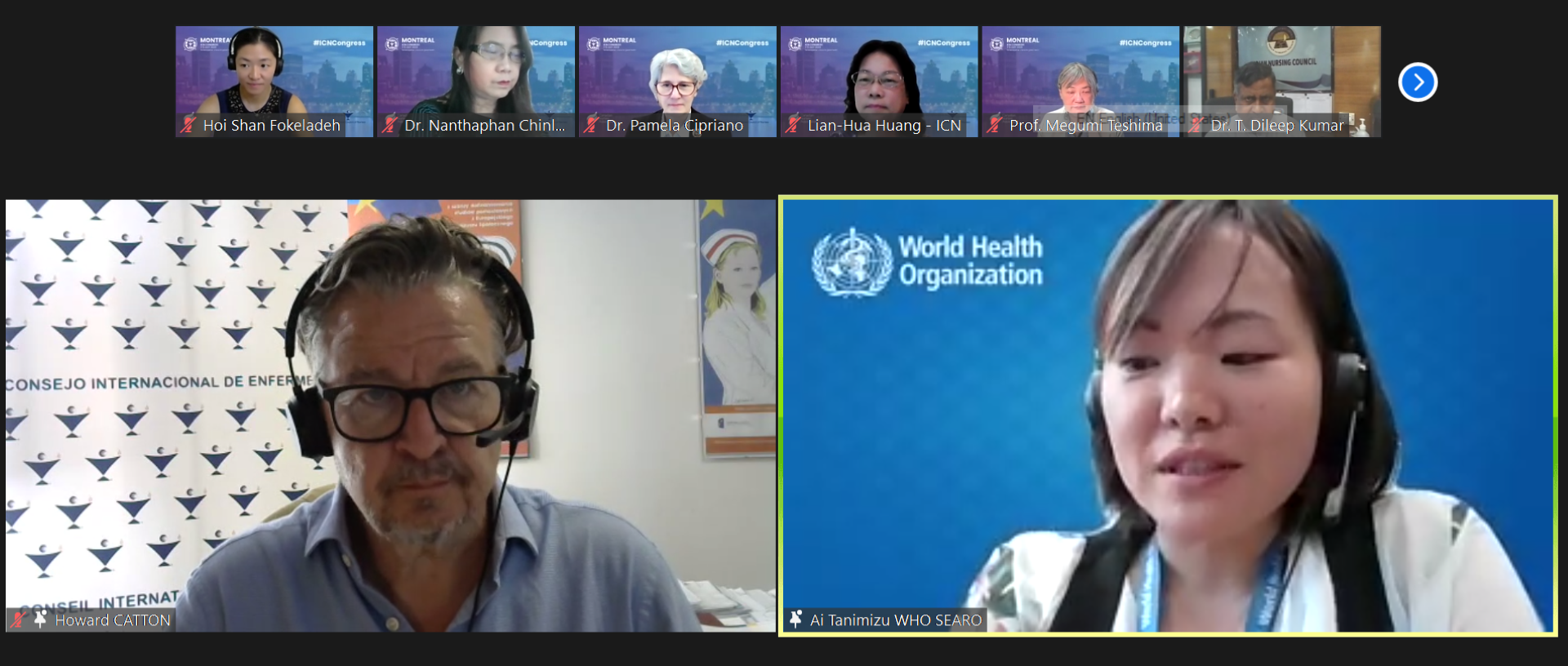 The International Council of Nurses (ICN) recently held a webinar to discuss nursing in South East Asia. The webinar, chaired by ICN Chief Executive Officer Howard Catton, included contributions from ICN President Dr Pamela Cipriano, ICN Board members, Nanthaphan Chinlumprasert, Dr Lian-Hua Huang, and Prof Megumi Teshima, as well as WHO SEARO Technical Advisor for Nursing Ai Tanimizu, and leaders from six South East Asia National Nursing Associations (NNAs) and ICN Policy Adviser, Nursing & Health Policy, Hoi Shan Fokeladeh.
In her opening address, Dr Cipriano emphasised that ICN could only be effective if it understands what is happening in the field and therefore she greatly welcomed the opportunity to hear from NNAs in the South East Asian region. She said it was important for ICN to recognise that although many of the issues ─ such as workforce challenges ─ were similar around the world, they took on different nuances in particular countries and regions. The ICN President said the discussions on the webinar would further inform and enhance ICN's communication and understanding on how ICN and its members go forward together.
ICN Board Member for the South East Asia Region Nanthaphan Chinlumprasert stressed that the webinar was an opportunity for colleagues in the region to share their point of view regarding the development of the nursing profession. She said that the COVID-19 pandemic had necessitated changes and adaptions which had been felt by the whole region. She concluded that now was a moment to share experiences and further strengthen the network for future collaboration.
Howard Catton highlighted some of the most significant recent ICN activities including the Triad meeting; ICN's input to the World Health Assembly; and International Nurses Day (IND) on 12 May and its related report under the theme Nurses: A Voice to Lead with its specific focus: invest in nursing and respect rights to secure global health.
He also drew attention to the World Health Organization's (WHO) Global Strategic Directions for Nursing and Midwifery (GSDNM) with its focus on four key areas: the need to invest in nursing education, nursing jobs, nursing leadership, and nursing practice and service delivery. Mr Catton pointed out that the IND report provided a lot of practical examples as well as policies that supported the implementation of the Strategic Directions. However, he said, the publication also added two other critical issues the safety of nurses and their health and well-being. These issues were included not only because of the impact of the pandemic but also because of the rise in violence against nurse and other health workers in both conflict zones, including Ukraine, Yemen, Myanmar, Afghanistan and Ethiopia and non-conflict zones. This worrying trend of increased attacks on health workers has been further highlighted by ICN and its partners, including the International Red Cross and the World Medical Association, in a new report which shows a 60% increase in concerns about such attacks which are affecting both the physical and mental health of nurses and their colleagues.
Mr Catton also reported that International Nurses Day was the formal launch of ICN's special collaboration with the BBC "Caring with Courage", a film project to highlight the reality of modern day nursing from around the world. ICN has worked with the BBC to bring forward 13 films about nursing practice, nursing innovation and nursing models which are powerful testimonies showing the realities of what nurses are doing often in settings of which the public may not be aware. Mr Catton encouraged participants to use the films as tools for lobbying and advocacy work in their region and countries.
Dr Cipriano reported back on the Triad meetings which brought together ICN, the International Confederation of Midwives and the WHO with the aim, amongst others, of ensuring that all three are aligned to accelerate delivery on the GSDNM. The Triad consisted of 650 delegates from 165 countries thanks to a strong virtual presence from across the world. The online format also opened the meeting up to educators.
The ICN President said the Triad discussions underscored the need for investment exacerbated by the impact of COVID which not only disrupted the nursing workforce but the delivery of health services everywhere. It was clear that the Strategic Directions really do focus on the main areas that require investment: education, jobs, service delivery and leadership. Under-investment is a serious risk not only from the standpoint of nurses, their opportunities for education, advancement, safer work environments and fair and equitable pay but also from the standpoint of delivering on universal health coverage. Dr Cipriano said such concerns were fundamental to the ICN platform and its messaging retaining and creating a robust workforce.
Dr Cipriano also addressed the issue of the importance of nurses being able to practice to the full extent of their education in order to be able to influence and adapt new strategies and models of care. She said it was important to use our media partners to get the message out about nurses' ability to innovate and create, citing the BBC Caring with Courage project as a good example.
Finally, Dr Cipriano underlined the necessity of continuing the dialogue about updating the State of the World's Nursing report to have better data that will provide a snapshot of what has happened during the pandemic, because in some countries about 20% of the nursing workforce have left.
ICN Policy Adviser Hoi Shan Fokeladeh reported back on ICN's 70-strong delegation to the virtual World Health Assembly, which was also held in May.
ICN's official relations with WHO mean that it can contribute to the WHA agenda. Ms Fokeladeh said the delegation consisted of nurses from 40 countries, NNA representatives, Global Nursing Leadership InstituteTM scholars and alumni, and ICN staff. They delivered interventions on human resources for health, strengthening WHO's preparedness and response to health emergencies, infection prevention and control, the public health dimension of the world drug problem, the Global Health for Peace Initiative, prevention and control of non-communicable diseases and human organ and tissue transplants. The ability to deliver these statements makes the WHA a significant platform for global health advocacy on behalf of the world's 28 million nurses. Ms Fokeladeh said the ICN WHA report, now available on the website, outlines the key nursing policy consideration as they relate to the current context of a variety of global health issues that have been prioritized by ICN for the nursing profession. She added the report also provides guidance to where and how efforts to advance health and healthcare should be focused, and could be used by the ICN community as a guiding tool for its lobbying and advocacy work.
Finally, Ms Fokeladeh underlined the support ICN received from WHO Director General Dr Tedros who tweeted: "Nurses have shown over and over that they are the cornerstone of health around the world. I salute all of them for their tireless dedication and resolve. Thank you ICN for your strong collaboration with WHO to advance nursing."
WHO SEARO Technical Advisor for Nursing Ai Tanimizu brought the participants' attention to the GSDNM and how they informed and connected with the South East Asian regional priorities, including transformative education, rural retention, governance and service delivery, data and information and international migration. Dr Tanimizu said that over the last decade there was a definite increase in focus on primary healthcare workforce issues, such as distribution, composition, competence and performance. She called on the NNA presidents to help develop and update data on these important areas.
Dr Tanimizu noted that the 75th Regional Committee (RC) for Southeast Asia, comprising the 11 member states and invited members including ICN, would be held 5-7 September in Paro, Bhutan. She urged NNA presidents in the region to attend the RC which would focus on formulating policies, provide oversight for regional programmes and endorse new initiatives. Dr Tanimizu added that two publications were being prepared for the RC with specific relevance to nursing: a report on the nursing profession in the South East Asia region with a focus on Bhutan, Indonesia, Maldives, Sri Lanka, Thailand and Timor-Leste will be included in the report; and a regional competency assessment tool for nursing educators.
Interventions from South East Asia NNAs
India
President of the Indian Nursing Council, Dr. T. Dileep Kumar
Dr Kumar thanked WHO, ICN and the NNAs for putting nursing on the global agenda. He said the GSDNM with its focus on four key areas captured all the challenges that India is facing.
Dr Kumar said that nursing visibility had never been higher due to its raised profile at WHA and nurses' tremendous contribution to combatting COVID. He pointed how nurses in India and other countries had come together like never before during the pandemic via a series of virtual meetings and engagements. By doing this they had been able to influence policy-makers and government. He added that in India, the Indian Nursing Council along with Jhpiego, the Trained Nurses Association of India and the All India Government Nurses Federation were cooperating to take forward the Strategic Directions and seeing results with their recommendations being considered at national government level. Dr Kumar said that one of the upcoming big policy reforms was the amending of the Indian Nursing Council Act which has not been amended since 1947. The new bill has already been finalised by the government and was about to be introduced into parliament.
Dr Kumar concluded that that this new piece of legislation would have a big impact on the improvement and advancement of nursing, and the standard of nursing education. He said that there was also a lot of data collection being carried out to track India's 2.3 million nurses and see how they could be better supported, whilst plans were also being implemented to improve India's nursing education system.
Sri Lanka
President of the Sri Lanka Nurses Association, Prof. Sudath S.P. Warnakulasuriya
Professor Warnakulasuriya said that despite the financial, economic and political crises Sri Lanka was facing, the Sri Lankan Nurses Association continued to support its members with educational workshops and seminars, supported by ICN, and disaster training programmes. Over recent years as well as the pandemic, nurses have had to face other challenges such as terrorist attacks and natural disasters. Nurses have played a central role in facing these various problems which have severely affected their education and professional development. COVID was particularly challenging due to lack of equipment, PPE, transport and working schedule issues, but nurses continued to work throughout the pandemic, sacrificing themselves for the good of the people and the national health service. Ten nurses died during the pandemic, and ─ due to the COVID Effect and the instability in the country ─ many nurses are now looking to leave the country to seek work elsewhere, and which is creating a shortage.
Professor Warnakulasuriya concluded that urgent action was required to address the root causes of the increase in nurse migration, and make the necessary policy changes and reforms to nurse education and development.
(N.B. Mr Catton responded by reminding participants that workforce issues raised by Professor Warnakulasuriya would be at the heart of the ICN Workforce Forum being hosted by the Thai Nurses Association in Bangkok in March next year.)
Thailand
President of the Nursing Association of Thailand, Dr. Siriorn Sindhu
Dr Sindhu said she and her colleagues were very much looking forward to welcoming colleagues to the ICN Workforce Forum in March 2023 and sharing experiences. She then summed up the progress of nursing policy in Thailand, beginning with primary health care which she said was moving from the Ministry of Public Health to the Ministry of the Interior, necessitating a change in the way it was managed. Dr Sindhu said this change presented an opportunity for nurses to have a higher rank and therefore they are looking at introducing short courses of four to six months to help prepare nurses for these leadership roles with 20-30 thousand nurses moving to the primary health care arena. This plan would entail investment from the government to fund the courses. Although it is challenging to ensure nurses receive the necessary training to take up these leadership roles, nursing is already very prominent in primary health care – for medical care and chronic illness, including end of life or palliative care at home or in the community.
Dr Sindhu said government policy recognised the importance of making primary healthcare stronger through nursing, but the funding was insufficient. Thailand has a shortage of some 30,000 nurses per year and therefore it is vital that the government invest in nursing education and support nurse students and nursing schools. At the higher level of masters and doctoral degrees, more investment is needed in specific areas such as cardiovascular and cancer care. Dr Sindhu said that although there has been more investment in Thailand's healthcare services over the last five to ten years, this was not enough to improve the quality of specialist care.
In summary, Dr Sindhu said that the task of the Nursing Association of Thailand was to show that nursing is not an expense but a revenue and therefore the government must invest.
Myanmar
President of the Myanmar Nurse and Midwife Association, Prof. Daw Yin Mya
Professor Mya brought the participants attention to the political crisis in Myanmar in 2021 which has resulted in two thirds of nurses and midwives moving away from their workplaces. Although financial and social programmes have been put in place to support these nurses, they are difficult to contact. This has resulted in severe shortages of nurses and midwives in hospitals and the community, Professor Mya added.
Professor Mya said that prior to the webinar she had asked a group of senior and junior nurses if they had a message for ICN. They had replied that ICN should understand that Myanmar was not in a stable or peaceful situation and they urged ICN to provide leadership training not for the older nurses but the younger nurses, so that they were ready to take on leadership roles.
Indonesia
Head of International & National Collaboration of the Indonesian National Nursing Association, Dr. Agung Waluyo, on behalf of President Harif Fadhillah
Dr Waluyo said Indonesia's situation is similar to that of Thailand: the challenge is to convince the government and policymakers that investing in nursing and healthcare is not a cost but a revenue.
Indonesia is also facing a lack shortage nurses due to the pandemic during which 700 nurses lost their lives. Low salaries and inflation are making it particular difficult for nurses in some provinces. In general, there is a lack of a clear career path and large variations in the standard of training which is adding to the problems, Dr Waluyo explained.
Dr Waluyo said the Indonesian National Nursing Association is addressing these issues by staying united and trying to empower and advocate for colleagues in the provinces as well as dealing with policy makers at local government level. The Association is addressing the nursing shortage at both national and local level by calling for improved career structure and wage systems as well as better education at university level.
Dr Waluyo concluded by expressing his gratitude to both ICN and WHO for their support.
Panel Discussion chaired by Howard Catton
During the panel session which followed the NNA interventions, Mr Catton noted that the speakers had all touched upon the key pillars of ICN's strategic plan, from workforce to regulation, education, professional practice and leadership. He added that it was important that ICN listened and found new ways to support NNAs and WHO on these issues.
Reflecting on the interventions from the NNAs, ICN Board Member for the South East Asia Region Nanthaphan Chinlumprasert said one common theme which had been highlighted by the speakers was the need for ICN to continue to support NNAs in the region as they sought to rebuild after the pandemic. She said that the promotion of nurse leadership is paramount to this transformation.
Dr Chinlumprasert added that it was clear from the discussions how important the Workforce Forum in Bangkok next year would be in tackling these issues in the region.
ICN 3rd Vice President, Dr Lian-Hua Huang remarked that leadership is a central tenet of ICN's work, underlining the importance of its leadership training programmes, such as the Global Nursing Leadership Institute (GNLI) and Leadership for Change (LFC). Dr Huang said the programmes are designed to ensure that nurses are equipped with the knowledge and strategies to lead and manage health services to benefit the population.
Speaking about her work with the Taiwan Nurses Association (TWNA) and the LFC programme, Dr Huang reported that since 2015, the TWNA had trained three LFC cohorts including not only Taiwanese nurses but also nurses and nurse leaders from Myanmar, Indonesia and Vietnam. The fourth cohort also welcomed nurses from Mexico, Mongolia, Saint Lucia and the Philippines.
Dr Huang highlighted two success stories that have helped improve nurses pay. In Macau, nurses pay has been raised to that of other government employees and nurses training schools have been raised to degree level. Her second example was from the Taiwan University Hospital where Dr Huang successfully led a campaign to increase nurses' pay by $100 dollars per month to give them parity with other medical personnel. As a result, the average pay for nurses increased by 11% and the nursing shortage problem was solved dramatically.
Dr Huang concluded by sending her congratulations to the Indian Nursing Council for their excellent work in changing all nursing school courses to degree level nationwide, which would greatly benefit patients. ICN Board Member Professor Megumi Teshima from the Japanese Nursing Association thanked Mr Catton for sending ICN's condolences for the loss of former Prime Minister Shinzo. Mr Catton recognised that Prime Minister Shinzo had been a strong advocate for primary healthcare both in Japan and globally.
Professor Teshima discussed the issue of the ageing population in Asia, and pointed out that that in Japan the mandatory retirement age was still 60 to 65 despite the diversity of different physical and mental capacities at that age. She gave an example from Japan where they have set up a programme to rehire older "platinum" nurses with the oldest being 93. Professor Teshima said that by working even one or two days a week, these nurses are contributing to reducing staff shortages while helping to maintain their own physical and mental health. She added that patient safety is at the heart of this programme.
Professor Teshima said there is also a strong obligation to train the younger generation of new graduates alongside the older nurses. The interaction between younger and older nurses benefit both with the sharing of new skills and experiences.
She said "Together, nurses can pass the baton with wisdom to the next generation so that more people can lead healthier and happier lives." Mr Catton picked up on the theme of Patient Safety on which ICN has been collaborating very closely with WHO. He highlighted the importance of this cooperation between ICN and WHO being moved forward at both the regional and global level as a powerful force for change.
In her concluding remarks WHO SEARO Regional Technical Advisor for Nursing, Ms. Ai Tanimizu said it is positive that the discussions during the webinar had focused on strengthening the Strategic Directions for Nursing and Midwifery 2021-2025.
Ms Tanimizu said that from the WHO perspective at the regional level strengthening health systems and the health workforce in order to move towards universal health care is a top priority. She underlined WHO's wish to work even more closely with ICN and the NNAs.
Ms Tanimizu recognised the strong leadership of the NNAs through the recent and ongoing health emergencies, including climate change, natural disasters and political and economic crises. She also praised the frontline nurses for their incredible work and dedication during these difficult times.
In conclusion, Ms Tanimizu said she hoped that ICN and the NNAs could have individual discussions with the WHO country and regional offices so that WHO could support them in their work.
In her concluding remarks, ICN President Dr Cipriano thanked all the presenters for their valuable contributions and pointed out how the Strategic Directions for Nursing and Midwifery are truly reflected in the work of ICN and its NNAs in collaboration with WHO. Dr Cipriano said: "I think it underscores that we are at a critical time. Whether your country is experiencing political or an economic crisis, we all are aligned around the fact that there is a nursing crisis. And that means there is a universal health coverage crisis."
Dr Cipriano said the only way to tackle these issues is to work together and utilize our combined strength and resources. There are a number of areas that need our collective attention, she said, including the workforce, gender equity, pay equity and labour issues. Dr Cipriano said the discussions on the webinar had shown how leadership is central to all countries.
Dr Cipriano pointed out how ICN's strategic pillars are being amplified by the focus of the NNAs and ICN working together through the Strategic Directions for Nursing and Midwifery:
"So whether your top priority is improving your education system, or providing leadership education and training, or creating better avenues and models to improve the safety of care, or whether it's the safer conditions and protection of wellbeing of your workforce, Every single one of these is absolutely critical. And we appreciate the enormous leadership and work that every one of you are doing within your countries because, again, collectively we know this will improve our ability to impact global health," Dr Cipriano said.
Dr Cipriano thanked all the speakers and everyone attending the webinar and said ICN looked forward to continuing to work together to raise the voice of nurses and influence health ministers and other decision makers to recognise the value of nursing and the need for the expansion of the nursing workforce. Despite the tremendous amount of work ahead the strength of nursing leadership gives reason to be optimistic that the challenges can be overcome.