Nurses: A Voice to Lead Health for All
International Council of Nurses celebrates International Nurses Day!
Geneva, Switzerland; 10 May 2019 – On Sunday, 12 May 2019, the birthdate of Florence Nightingale, nurses around the world will celebrate International Nurses Day (IND) with the theme Nurses: A Voice to Lead, Health for All.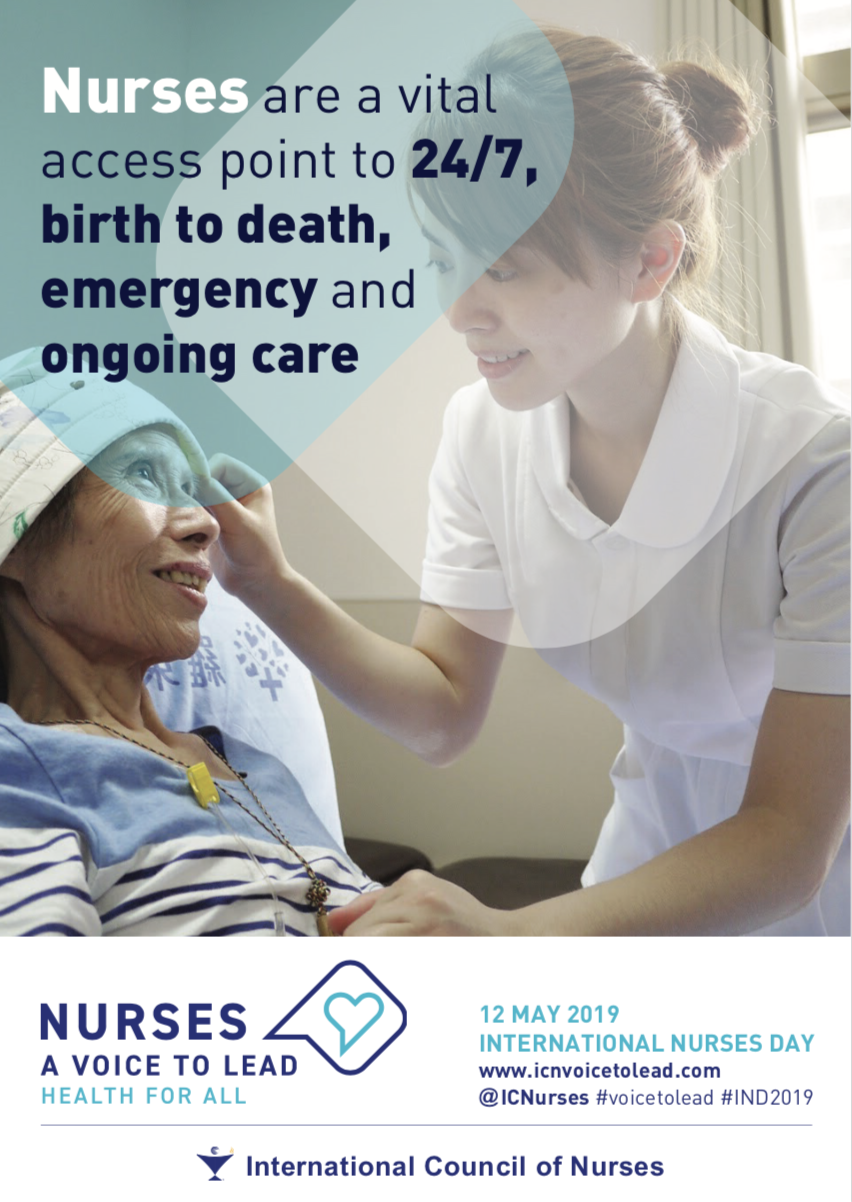 The International Council of Nurses (ICN) has produced several resources for nurses to celebrate this day and ensure they have the tools to make their voices heard. The ICN resources include a toolkit and case studies, showcasing nurses' innovative work from around the world, a video, poster and logo, which can be accessed on the IND website.
This year, let's make #IND2019 viral! Follow us on Twitter: @ICNurses
ICN sets the theme for IND every year and our resources are used by nurses and nursing associations around the world as the focus of their celebrations.
"ICN is delighted that so many different groups have been holding events over this week," said ICN President, Annette Kennedy. "Along with nursing organisations, the celebrations of IND using the ICN theme have been held by other health care providers, technology and pharmaceutical companies, the World Health Organization and many more, showing the growing recognition of the important role of nurses in providing health care for all."
"ICN plays a key role in ensuring nurses' voices are heard at the highest levels of policy making," added Howard Catton, ICN's Chief Executive Officer. "We are currently preparing to welcome about 100 nurses to Geneva to attend the World Health Assembly, as part of our delegation, and will be ensuring a high profile for the profession."
Thousands of nurses will also be attending the ICN Congress in Singapore, 27 June- 1 July, where they will have the opportunity to share experiences and learn from high-level experts. Join us there by registering here.
---
Note for Editors
The International Council of Nurses (ICN) is a federation of more than 130 national nurses' associations representing the millions of nurses worldwide. Operated by nurses and leading nursing internationally, ICN works to ensure quality care for all and sound health policies globally.
For further information please contact
Gyorgy Madarasz, Press Officer, International Council of Nurses, Tel: +41 22 908 01 16
 #IND2019 #VoiceToLead #HealthForAll
ICN/PR2019#13
---
---